SUMMARY: There's long been confusion around pictures of Eliezer Levi Montefiore (1820-1894) and S.T. Gill, particularly over the authorship of some small mid-1840s artworks. In this article I largely resolve that confusion, revealing a sketchbook doodle and a hidden signature and begin a focus on the connection between the two men.
Article type: CATALOGUE & ANALYSIS
Doodling
Whose names would you doodle in a sketchbook on a five day sail, in cashed up cabin class, from Port Adelaide to gold rush Melbourne, in October 1852?
In his sketchbook, businessman and amateur artist Eliezer Levi Montefiore (1820-1894) played word games. He scrambled the name of British parliamentarian William Ewart Gladstone to get "a wild man will go at trees". And he made four-letter word squares with the names of family members.
DORAOPALRAREALES
He made no progress with "LILY" and "GILL". GILL? Yes, the artist Samuel Thomas Gill (1818-1880).
Montefiore's Sketchbook, 1852-1853
The doodles kick off this sketchbook which marks Montefiore's move from South Australia and a fresh beginning in Victoria.
Sketches made during visits to Adelaide, Melbourne and Sydney. 1852-1853 | State Library of Victoria H84.459
The sketchbook, previously attributed to another artist, was identified as Montefiore's by Nicholas Draffin in a 2014 article on Montefiore.1
The word square is the sole reference in the sketchbook to Gill, who too had made a similar voyage earlier that year. A Montefiore-Gill connection has been recognised for a long time, but its nature was unknown. This article goes some way to clarifying that connection.
The Montefiore-Gill Confusions
The Montefiore-Gill confusion has been caused by several pictures, the most significant being the wash drawing Race Course, Adelaide.
Race Course, Adelaide
Race Course, Adelaide | State Library of New South Wales SSV3/Rac/Vic P/1
This is signed ELM (lower left). On the reverse (also digitised) is an inked note: "Drawn by E.L. Montefiore, brother of Sir Moses Montefiore / Given to ACC Liardet by Mr L.P. Montefiore (nephew of Sir Moses Montefiore) / London 1902".
The confusion arises because the subject matter and style are the same as Gill's well-known wash drawing NLA R118 (see blow).
The ELM signature is heavily inked, in the spot Gill would typically sign, and the digitised image hinted at something obscured. In September 2020 I viewed this picture and under good magnification I made out STG beneath ELM. It's a mystery as to when and by whom this sketch was over-signed.
Three Watercolour Studies of Adelaide and the Port
The Mitchell Library, State Library of New South Wales (SLNSW) has a set of three watercolours (SLNSW SSV*/Sp Coll/Gill/1-3) attributed, at time of writing, as "possibly by S.T. Gill or E.L. Montefiore". They are: Frome Bridge, Adelaide; King William Street, Adelaide and Port Adelaide, S.A.. All are signed STG. Montefiore pencilled notes on two of them, initialling one. The street picture was of particular interest to Montefiore as the featured buildings are his, he pencilling below: "My Store" and "My Dwelling".
I've previously dealt with the third picture in my article: S.T. Gill's Port Adelaide . That Gill's characteristic street dogs are absent from King William Street further suggests a study rather than a well finished picture. The three are clearly a group; they are possibly studies or gifts from art master to student.
Frome Bridge (Dutton, 1846)
Frome Bridge was a popular subject for Gill. A view of it appears in Francis Dutton's book, "South Australia and its Mines", published in London early in 1846. (Dutton sailed from Adelaide in February 1845.) On page 119 Frome Bridge, Adelaide is credited on the plate to E. L. Montefiore. But it is so like Gill's several bridge pictures that it is probably either a copy or a misattribution – perhaps even Gill himself agreeing to credit Montefiore. (Incidentally, the book's frontispiece – The Adelaide Plains: Taken from Wheal Watkins Lead Mine – is by Gill and is attributed in the book to "E. Gill".)
Young's House, Pulteney Street
Yet another picture adds to the Montefiore-Gill confusion. It has been titled E.L. Montefiore's house, Adelaide, 1840s probably since its accession into the National Library of Australia (NLA NK2038/32) as part of the Nan Kivell collection. A catalogue note reads: "Drawing of E.L. Montefiore's house, after S.T. Gill; attributed to Gill by Rex Nan Kivell." A succeeding note adds: "Artist possibly E.L. Montefiore."
Two aspects of the rough little watercolour help clarify its identity:
Signature: ELMontefiore/S.G.2
Reverse inscription: Mrs Ch(as?) (James?) // Mrs James Young / Ivy Cottage / Pulteney St.
The inscription brings to mind Gill's The Youngs' cottage, old one, Pulteney Street | NLA NK2038/03 (see below). The obvious connection between the two pictures is the Youngs' Pulteney Street residence. The portrayals are not identical but they are very much alike. The brick chimney stack (which is commercial, not domestic) is in the same relative position in both views. The striped verandah awning is the same (though these were not uncommon). The houses are almost certainly the same. The Aboriginal man standing with spear – a typical Gill artistic device – is present in both.
The evidence supports the conclusion that Montefiore painted NK2038/32 and "S.G" is his acknowledgement of Gill's original source or assistance.
The house's identity is uncertain but it's possible it's the home of James Young of the Royal Sappers and Miners.3
Conclusion
The confusion between the pictures of Montefiore and Gill has mainly been caused by SLNSW's Race Course, Adelaide and NLA's E.L. Montefiore's house. This article clears up that confusion and provides evidence, albeit indirectly, that Montefiore was, for a time, S.T. Gill's art student.
To Do
Draffin's article identifies three pictures as Montefiore's "careful copies" of Gill works. Given one of them, Race Course, Adelaide, is now known to be a Gill, I plan to examine the other two and have requested they be digitised.
Acknowledgements
Thank you to State Library of New South Wales and National Library of Australia for making works physically available for my study and to SLNSW, NLA, SLV, NGV and Trove for providing access to online resources used for this article.
---
References
---
Notes
1. Nicholas Draffin, 2014, An enthusiastic amateur of the arts: Eliezer Levi Montefiore in Melbourne 1853-71 (NGV "Art Journal" 28), accessed dd mmm yyyy, https://www.ngv.vic.gov.au/essay/an-enthusiastic-amateur-of-the-arts-eliezer-levi-montefiore-in-melbourne-1853-71/
2. The signature looks somewhat like "ELMontefiore/55", however the dot between the 5's disallows this reading, and Montefiore's 1855 absence from South Australia mitigates against it.
3. James Young was formerly of the Royal Sappers and Miners and later a draftsman in the Survey Office. The reference to the house of "Mrs Young", instead of "Mr Young", could be explained by Young being frequently absent from Adelaide for long periods on survey. On the back of Lieutenant Magill's Flinders Street military barracks , the amateur artist writes: From the S.E. ... from the side next Mrs Young's house while I stood in a field adjoining the premises outside the wall. This barracks location would be consistent with a Sapper and Miner. A similar location (near acre 274) is supported by a 1842 report of a near fall into a well. These all suggest a location near the intersection of Pulteney and Flinders Streets.
List of Works
You can scroll down to see all pictures along with detailed notes or click a link to jump to a specific work from the list.
Detailed notes each include a link to the map location for the view (where available).
Dates in the descriptive text are generally in yyyy-mm-dd format and more specifically in Extended Date/Time Format (EDTF) .
---
First Falls, Waterfall Gully, First Creek near Adelaide | SLNSW-DL DL PXX 60 f.21
[Mountain waterfall] | Dixson Library, State Library of New South Wales DL PXX 60 f.21
Artist: Gill, S.T. | Date: 1844~/1845~ | Appleyard cat. n/a
Catalogue:
S.T. Gill and E.L. Montefiore
Waterfall Gully - also now known as First Falls - on First Creek near Adelaide. The gum tree (left foreground) is prominent in later photographs but began to die after being flooded by waters of the weir built 1881-82.

This sketch in E.L. Montefiore's album is unsigned but is likely by S.T. Gill being in his style with characteristic grass tree and Aboriginal man with spear.

For comparison of scene see photograph SLSA B 6576 https://collections.slsa.sa.gov.au/resource/B+6576 shows Gill's prominent gum left foreground and even grass trees. (SLSA's collection https://collections.slsa.sa.gov.au/collection/Waterfall+Gully+Collection shows the gum died after being flooded by the weir.)

Map | S. T. Gill - Adelaide District

382
---
The Youngs' cottage, old one, Pulteney Street | NLA NK2038/03
The Youngs' cottage, old one, Pulteney Street | National Library of Australia NK2038/03
Artist: Gill, S.T. | Date: 1841~/1844~ | Appleyard cat. n/a
Catalogue:
S.T. Gill's Series of Adelaide Views
The painting's subject is uncertain, but is likely the house of James Young of the Royal Sappers and Miners - later draughtsman in the Survey Office. E.L. Montefiore painted (probably) the same house in NLA NK2038/32.

Series of Adelaide Views 38 (from reverse inscription).

The Youngs are mentioned in connection with two other pictures.

Gill's NLA NK2038/32 has a reverse inscription: "Mrs Ch(arles?) (Amis?) | Mrs James Young | Ivy Cottage | Pulteney St." And this could be the same house in both pictures.

J.N. Magill's 1843 NLA NK2037/A includes a reverse inscription: "From the side next to Mrs. Young's house while I stood in a field adjoining the premises outside the wall". However further research has not determined where in Pulteney Street that house was located.

These other pictures can also be viewed on the map "S. T. Gill - Adelaide".

Map | S. T. Gill - Adelaide

49
---
Youngs' cottage, Pulteney Street | NLA NK2038/32
E.L. Montefiore's house, Adelaide, 1840s | National Library of Australia NK2038/32
Artist: Montefiore, E.L. | Date: 1844/1846
This small watercolour is likely by E.L. Montefiore after S.T. Gill as suggested by the signature "E.L. Montefiore/S.G". It is in Gill's style and includes his frequent motif of an Aboriginal man standing with spear.

On the reverse is written: "Mrs Ch(as?) (James?) || Mrs James Young | Ivy Cottage | Pulteney St" suggesting this is Mrs Young's cottage in Pulteney Street. The house is likely, though not certainly, the same as pictured in NLA NK2038/03 "The Youngs' cottage, old one, Pulteney Street" by Gill.

The painting's subject is uncertain, but is probably the house of James Young of the Royal Sappers and Miners - later draughtsman in the Survey Office.

Map | S. T. Gill - Adelaide

78
---
Adelaide race course, '45 | NLA R118
Adelaide race course, '45 | National Library of Australia R118
Artist: Gill, S.T. | Date: 1845-07/1845-11 | Appleyard cat. n/a
Catalogue:
S.T. Gill and James Allen, 1845
The scene is the annual New Year races held on 1-3 January 1845. The view is down the straight with the hills in the background and the Grand Stand at right. The races were run on the Park Lands near the southeast corner of the city. The Grand Stand was funded and erected by Henry Robinson of the Freemasons' Tavern in Pirie Street. Robinson also raced his horse "Cobbler" who, with "Matilda", was the focus of the races. Prominent in the centre foreground is a horse with a striped blanket and the letter "R" which is probably Robinson's "Cobbler".

It is inscribed by Gill on the reverse: "Mr Allen".
James Allen's lecture / dissolving view: 3/5.

Map | S. T. Gill - Adelaide District

12
---
Race Course, Adelaide | SLNSW SSV3/Rac/Vic P/1
Race Course, Adelaide | State Library of New South Wales SSV3/Rac/Vic P/1
Artist: Gill, S.T. | Date: 1845 | Appleyard cat. n/a
Catalogue:
S.T. Gill and E.L. Montefiore
The scene is the annual New Year races held on 1-3 January 1845. The view is down the straight with the hills in the background and the Grand Stand at right. The races were run on the Park Lands near the southeast corner of the city. The Grand Stand was funded and erected by Henry Robinson of the Freemasons' Tavern in Pirie Street. Robinson also raced his horse "Cobbler" who, with "Matilda", was the focus of the races. Prominent in the left foreground is a horse with a striped blanket - probably Robinson's "Cobbler" (see NLA R118).

The signature ELM appears at lower left. However close examination reveals the signature "STG" underneath. The false signature and reverse inscriptions would have led to the attribution to Montefiore, but they are all later additions. It is clear from the inscription that this picture was in the Montefiore family and in London in 1902.

Map | S. T. Gill - Adelaide District

350
---
King William Street, Adelaide | SLNSW-M SSV*/Sp Coll/Gill/2
King William street, Adelaide, ca. 1845 / possibly by S.T Gill or E.L. Montefiore | Mitchell Library, State Library of New South Wales SSV*/Sp Coll/Gill/2
Artist: Gill, S.T. | Date: 1845-07~/1846-03~ | Appleyard cat. n/a
Catalogue:
S.T. Gill and E.L. Montefiore
This is a northeast view from Adelaide Acre 140 across to Acre 108 and Montefiore's buildings which were built between October 1843 and January 1844. Further along is Acre 79 and at far left W.H. George plumber and glazier (white stone front); Rundle Street is not in view.

This scene is a little later than the similar ones for Sturt's departure. It includes Norman's premises (completed July 1845) and an extra Montefiore building right on the very corner. Also changed is the two storey building to the left of Montefiore's which is George Dehane the printer, whose second story was being erected in April 1845. Acre 140 is still vacant, being bought by Bank of Australasia in April 1846 with excavations beginning in June. The absence of Waterhouse building which opened March 1846 (Acre 79) suggests that it may not yet have been built.

Thus a date is suggested to between July 1845 and March 1846.

Gill's characteristic street dogs are missing from this street scene and the detail is not Gill's highest standard.

This is one of a set of three Gill watercolours in the hands of his student E.L. Montefiore. They are: 1. Frome Bridge, 2. King William Street and 3. Port Adelaide. All are signed "STG" lower left. This group is dated to 1845-07~/1846-03~ on the basis of the buildings in the King William Street sketch.

This picture is discussed in my article: S.T. Gill and E.L. Montefiore

Below the picture are pencil notes on the buildings and the initials ELM (twice). This street picture was of particular interest to Montefiore as the featured buildings are his, he pencilling below: "My Store" and "My Dwelling".

Map | S. T. Gill - Adelaide

217
---
Port Adelaide, S.A | SLNSW-M SSV*/Sp Coll/Gill/3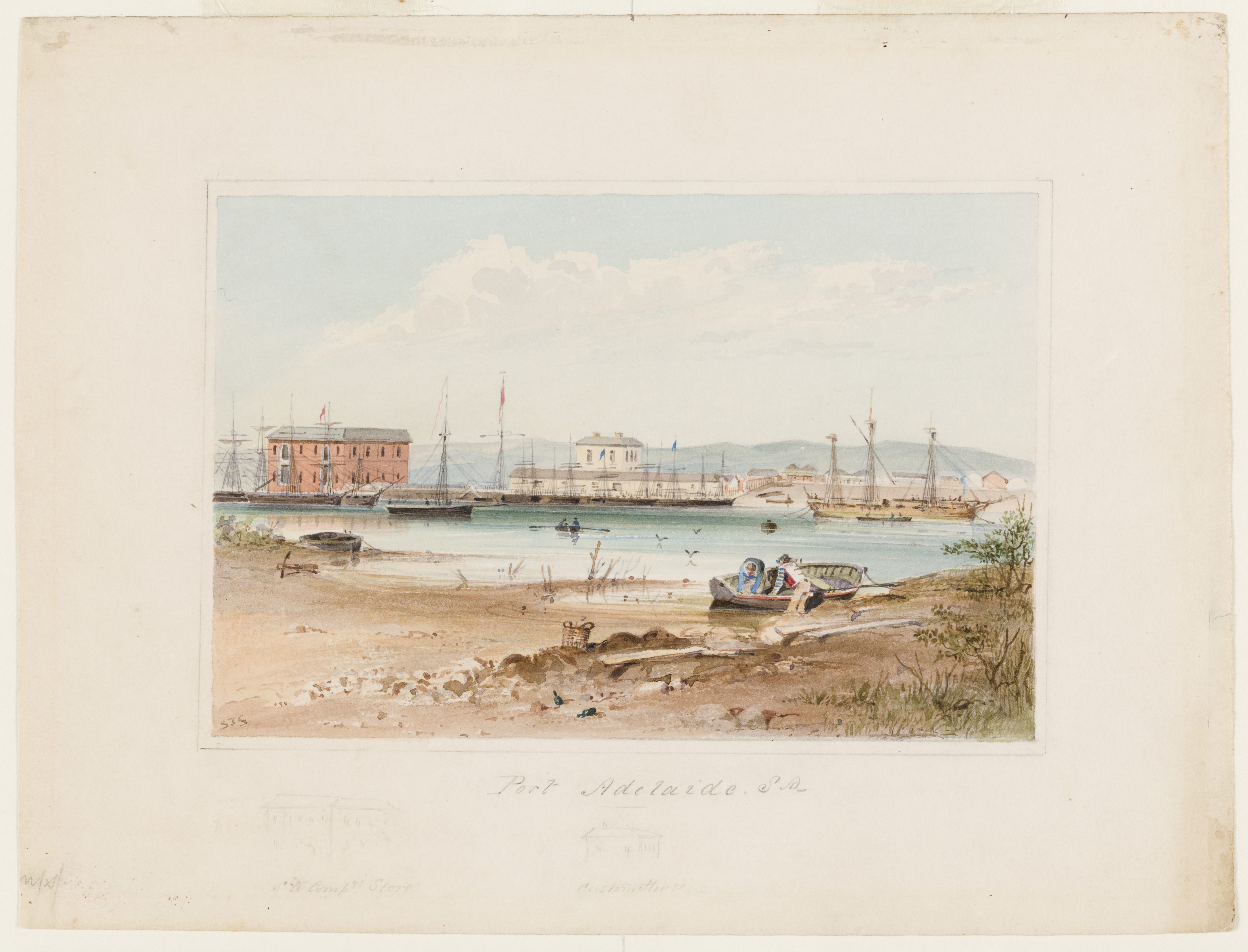 Port Adelaide, S.A | Mitchell Library, State Library of New South Wales SSV*/Sp Coll/Gill/3
Artist: Gill, S.T. | Date: 1845-07~/1846-03~ | Appleyard cat. 50
Catalogue:
S.T. Gill and E.L. Montefiore
A view generally south-east across Hindmarsh Reach (Gawler Reach) to Port Adelaide. The Mount Lofty Ranges are in the background. Prominent are the South Australian Company stores (McLaren warehouse, red building, left) and the Customs House (white building, centre). Between them are the flagstaff and the "canal" beside Queen's Wharf. On the river side of the Customs House are the Queen's wharf warehouses. At right is the confiscated French ship "Ville de Bordeaux". In picture between this ship and the Customs House is the Port Tavern (before it was destroyed by fire on 29 January 1847). This is Gill's more favoured angle across the Reach showing the north and west sides of the Company store.

The painting is by S.T. Gill and the pencil notes below are by E.L. Montefiore.

This is one of a set of three Gill watercolours in the hands of his student E.L. Montefiore. They are: 1. Frome Bridge, 2. King William Street and 3. Port Adelaide. All are signed "STG" lower left. This group is dated to 1845-07~/1846-03~ on the basis of the buildings in the King William Street sketch.

This picture is discussed in my article: S.T. Gill and E.L. Montefiore

This is almost identical to AGSA 0.655 dated 1847 by the artist. The view, construction, colour scheme, beached boat and even the tide are the same. The smoke emanating from the foredeck of the "Ville de Bordeaux" is the same blue. What differs is the Port Tavern. This SLNSW work has the original tavern before it burnt down on 29 January 1847. The AGSA work shows the replacement hotel under construction and surrounded by scaffolding; it was well underway in March 1847. This smaller SLNSW work just predates the larger AGSA one.

A plausible theory is that Gill started with the smaller work but the Port Adelaide fire intervened and to be contemporary Gill's final larger picture had to incorporate the replacement Port Tavern under construction. The smaller work was later given by Gill to his student E.L. Montefiore.

The paper carries an 1845 watermark.

Map | S. T. Gill - Port Adelaide

211
---
Frome Bridge, Adelaide | SLNSW-M SSV*/Sp Coll/Gill/1
Frome Bridge, Adelaide | Mitchell Library, State Library of New South Wales SSV*/Sp Coll/Gill/1
Artist: Gill, S.T. | Date: 1845-07~/1846-03~ | Appleyard cat. n/a
Catalogue:
S.T. Gill and E.L. Montefiore
Frome Bridge on the Torrens River opened on 18 August 1842. It was located on a bend opposite Pulteney Street. In the foreground is the rocky ford below the bridge, near which is a distinctive log from flood debris.

This was Adelaide's main watering place - prominent at left is an Aboriginal man sitting at the fording place. (Gill's other versions of this scene show a colonist here as the focal figure.) At right a water cart is arriving from the city to refill and at left a bullock dray departs.

This is one of a set of three Gill watercolours in the hands of his student E.L. Montefiore. They are: 1. Frome Bridge, 2. King William Street and 3. Port Adelaide. All are signed "STG" lower left. This group is dated to 1845-07~/1846-03~ on the basis of the buildings in the King William Street sketch.

Map | S. T. Gill - Adelaide

216
---
Frome Bridge, Adelaide | SLSA B 6745
Frome Bridge, Adelaide | State Library of South Australia B 6745
Artist: Gill, S.T. | Date: 1846 | Appleyard cat. n/a
Frome Bridge on the Torrens River opened on 18 August 1842. It was located on a bend opposite Pulteney Street. In the foreground is the rocky ford below the bridge, near which is a distinctive log from flood debris. This was Adelaide's main watering place and prominent is a colonist filling a bucket. At right a water cart is arriving from the city to refill.

This plate appears facing page 119 in Dutton (1846) "South Australia and its Mines". The plate is credited to E. L. Montefiore, but it is so like Gill's several Frome bridge pictures that it would seem to be a misattribution - perhaps even Gill himself agreeing to credit Montefiore. It is unknown which Gill original was used for this plate.

Francis Dutton sailed from Adelaide aboard John Heyes in February 1845. His "South Australia and its Mines" was published in London by June 1846.

Map | S. T. Gill - Adelaide

344
---