Edward John Eyre (1815-1901)
Edward John Eyre (1815-1901) was held in high esteem in 1844 South Australia. In 1838 he'd run a close second behind Joseph Hawdon in overlanding cattle and sheep to Adelaide. In 1839 he'd explored to Adelaide's north. In 1840-41 he'd traversed half the continent from Adelaide to Swan River.
After his arduous journeyings, in October 1841 Eyre had been appointed Resident Magistrate for the district of the Murray, a title that had soon been expanded to include "Protector of Aborigines". Eyre had based himself at Moorunde (also Moorundie / Moorundi) on the River Murray, 96 miles northeast of Adelaide by track.1 Eyre had first came across the location on an expedition in June 1839 – a grand natural avenue of gum trees on the river flat and opposite imposing cliffs.
E.J. Eyre to Take Leave
Late in 1843 Eyre's health had declined and on 6 November 1843 he wrote to Governor George Grey: "At present I am very unwell and have been so for some little time – so that I cannot well move if I wished it – unless absolutely compelled to go for medical advice." The following month on an exploratory trip from Moorunde up the Murray to the Darling his condition became debilitating. He reported on the trip, and on his condition, to Governor Grey on 20 January 1844: "My health, which for three months previously had been very bad, was now daily getting worse; a cold, caught one wet night in the beginning of the journey, caused a relapse of my complaint, until at last I could hardly keep my seat upon horseback at all."
On a visit into Adelaide on 11 March 1844 Eyre wrote to the Colonial Secretary:
Sir, I have the honour to solicit your application to His Excellency the Governor, for His Excellency to grant me a two years leave of absence from the Colony, upon half Salary, to enable me to return to England for the benefit of my health; which has been rapidly declining for some months past and which my medical advisers inform me will be more readily recruited by a sea voyage than in any other way. The period at which I should wish the leave of absence I have applied for to commence would be about the beginning of June next, or upon the first occurrence of an opportunity (about that time).
Grey approved eighteen months leave to commence from Eyre's date of departure.
Eyre's intention was to publish the journals of his expeditions along with a description of the "manners and customs" of Aboriginal people. In May, he was making preparations in Adelaide and there is evidence he engaged Sam Gill at this time for illustrations.
Also in Adelaide, waiting for a ship to England, was George French Angas, but no direct ship had arrived all year. The first expected, the barque Taglioni, was already months behind schedule and eventually arrived on 18 June. She brought Adelaide a backlog of news, the most exciting of which was the English Government's decision to support and fund Charles Sturt's proposed expedition to explore the interior of the Australian continent. The news upturned Eyre's immediate plans and he decided to delay his own departure for England to assist his friend Sturt. Eyre returned to Moorunde. The Taglioni may have also affected French Angas' plans. He'd received mail from his father George Fife Angas which seems to have spurred young Angas to leave for New Zealand at the end of July.2
Sturt's Great Northern Expedition left Adelaide in August 1844 and tracked to Eyre's base at Moorunde, where they consolidated for a week. Eyre, despite his variable health, accompanied Sturt for nearly three weeks, and only after that did he return attention to his own plans.
Eyre Resumes his Preparations
On 5 November Eyre arrived in Adelaide from Moorunde bringing despatches and letters from Sturt.3 That day he wrote to Grey confirming his passage was booked on Symmetry with estimated departure in the first week of December. That meant he had just a month to gather supporting material: natural specimens, Aboriginal weapons and implements, and sketches.
Among Eyre's illustrations were eight watercolours by S.T. Gill, seven of which were Aboriginal subjects and generally of around Moorunde. The question has previously been asked whether Gill ever visited Eyre at Moorunde. The trip would have been easy for Gill but it would not havebeen so easy to get the attention of Eyre in those busy months. All Gill's pictures are, or are likely to have been, based on sketches by E.C. Frome and George Hamilton. In the absence of specific positive evidence, it is actually unecessary to wonder whether Gill ever visited Eyre at Moorunde.
Angas: Out with Mr Gill, the artist
We also know Gill had other work around this time in the Barossa. On 29 October 1844 John Howard Angas (younger brother of George French Angas and son of George Fife Angas) noted in his diary: "out with Mr Gill the artist who has come from town to take some sketches – took Angaston, 'Wheal Sally', sheep washing and flat below Mr Evans". Appleyard identifies two watercolours pertaining to this visit.4 It's quite possible these pictures went aboard Symmetry with George Fife Angas' agent Anthony Forster. For more, see: S.T. Gill and George French Angas, 1844-1845
The "Symmetry" Sails
Eyre's departure in December was a grand occasion.
Colonists surged down to the Port, to the vessel and to her passengers. Most of the day's excitement was from the hundreds of Aboriginal people who were farewelling Eyre and three of their own. The sailing of the Symmetry merited the South Australian newspaper's editorial.
PORT ADELAIDE – SAILING OF THE "SYMMETRY."
YESTERDAY was quite a gala day at the Port. The occasion of this was the embarking of the passengers by the Symmetry, by which ship several old and respected colonists leave on a visit to their native land.
The excitement was materially increased by the fact that, by this vessel, three of the aborigines are proceeding to England, and in consequence of this a body of the natives, upwards of one hundred in number, proceeded to the Port yesterday morning to say good-bye to their old companions. Two of the natives go along with Mr Eyre, and the third with Mr [Forster]. Mr Eyre kindly presented each of the natives who visited the Port with a piece of bread, and other presents were also given to several of them. A great number of them afterwards went on board the Symmetry, where they were kindly treated by Capt. Elder, who, along with his passengers, and many of their friends and acquaintances, were on board.
They afterwards returned to the shore, and proceeded to Adelaide, the children in drays, and the men and women on foot.
A great number of ladies and gentlemen visited the Port during the day – some to say farewell to their friends, and others merely to witness the embarkation of the passengers ...
She carries to London a cargo of one thousand one hundred and ninety bales of wool, besides other colonial produce ...
This is, we believe, the most valuable cargo that ever was shipped from Port Adelaide ... About 4 o'clock the Symmetry hauled from alongside the Ville de Bordeaux into the middle of the stream, and then proceeded to Snapper Point. She will go to sea, we believe, this morning at daylight, weather permitting.5
James Allen's Register estimated stronger crowd numbers.
On Monday the passengers by this vessel went on board, and were attended by many friends anxious to pay them the last tribute of respect on their leaving the Colony. The assemblage was immense and brilliant, the gayest day the Port has seen since its opening. Most of the company visited the ship, and were very hospitably received by Captain Elder. Nearly three hundred natives, principally from the Murray, had performed a pilgrimage from Walkerville, to the Port, to take leave of their friend, Mr Eyre, who regaled each of them with a loaf of bread. He takes with him two of his sable attendants, and Mr Forster has another under his protection. The Symmetry takes one of the largest and most valuable cargoes that has ever left this port..6
Among the prominent passengers were George Fife Angas' agent Anthony Forster, Colonial Treasurer Robert Gouger, and Alexander Murray.
Alex. Murray
Port Adelaide in 1844 | State Library of South Australia B 4897 This sketch by Murray may well be the Symmetry in port before sailing.
Alex Murray (1803-80) was well connected to the Gills. His sister Elizabeth had married S.T. Gill's widowed father and Gill senior had sold Murray 10 acres at Upper Sturt, making them neighbours.7 Murray was also a co-religionist – a (Scotch) Baptist.8
Murray, later well known as a biscuit manufacturer, had designed one of the reaping machines in the competition the previous year.9 And in February 1844 he'd invented a water powered machine for which he intended to seek a patent in England.10 His trip may also have been for broader business affairs and perhaps to seek funding for his own enterprise.8, 11
Murray planned to visit his native Glasgow, Scotland, and also promote South Australia as a destination for the emigrant and capitalist. He would do so through an exhibition of paintings and reaping machine models. Murray was a reasonable artist and he took paintings of his own as well as some by S.T. Gill.
A Memento
Mode of burial on parts of the Murray River, S. Australia | National Library of Australia NK6897/F
On the day of Symmetry's sailing, a brother gave a small memento to his sister. On the back of a five inch square picture, he wrote: "Mary Palmer from her Heart loving Brother in Hope. John. 16 December 1844". He also pasted onto the back a sentimental poem, "Lights and Shades", by Felicia Hemans. The clipping obscures some artist brush strokes.
The Symmetry's passenger list doesn't mention a Mary Palmer, however there were four unnamed servants for Captain (and Mrs) Elder, Robert Gouger and Dr Knott. There is also an intriguing possibility that "John" may be John Palmer who was one of the two house carpenters brought out to South Australia in 1839 by Samuel Gill, snr. Of course Mary Palmer may not even have sailed on the Symmetry – perhaps Mary was in England. But given the significant event that day it's a good chance this little gift was taken aboard.
(See the discussion of Gill and other colonial artists' images of Aboriginal platform burial. .)
In England
The Symmetry dropped down the stream that day, sailed the next and arrived in London on 11 May 1845. The near five months at sea gave Eyre time to work on his manuscript. It also allowed plentiful interaction between the passengers and for them to inspect their collected objects and pictures. One such exchange was between Eyre and Angas' agent, Anthony Forster, whom Eyre would later thank in his preface:
To Anthony Forster, Esq., he offers his warmest acknowledgments for his assistance in overlooking the manuscripts during the voyage from Australia, and correcting many errors which necessarily resulted from the hurried manner in which they were prepared; it is to this kind supervision must be ascribed the merit – negative though it may be – of there not being more errors than there are.
Eyre published his "Journals of expeditions of discovery ..." in quick time, a review appearing in the London Spectator as early as 6 September.12
Fellow passenger Alex Murray continued on to Scotland. In October 1845 he was exhibiting in Dumfries.13 And in November in Glasgow he advertised his 75 picture exhibition "South Australia As It Is".
To open on Tuesday First, Exhibition in the Dilettanti Rooms, 52, Buchanan Street, of South Australia As It Is, Being 75 views in that fine and rising Colony, showing in one Series its varied capabilities as an Agricultural, Pastoral, and Mining Country. The Drawings taken the spot, and Coloured to Nature, by Mr. Alexander Murray. A Corroboree and other Drawings by S. Gill, Esq., Adelaide. The Oil Paintings, by Mr W.B. Wandsford, Esq., from Mr Murray's Drawings.
Also, Working Models of the Reaping and Thrashing Machines of South Australia, and a few specimens of its Minerals.
Open from 10 till 4. Admissions 6d; and from 6 till 9 Evening, Admissions 3d. Descriptive Catalogues 2d. each.14
Just before his return to South Australia, Murray offered his entire 75 works collection for sale in London in May 1846, seeking 400 Guineas for the lot.15 Other than a corroboree, there is no indication as to the other Gill works held by Murray.
George French Angas had returned to England in February 1846. His exhibition in London's Egyptian Hall opened on 6 April, so it would appear Angas' didn't have access to any of Murray's Gill works on opening. But it's quite possible he included some of Eyre's Gill pictures and these possibilities are noted below.
Works: Catalogue and Related
Listed here are:
Gill's watercolours for Eyre
plates in Eyre's "Journal" attributed to Gill
other related pictures by E.C. Frome and James Henderson and upon which Gill based his own works
the siblings memento
some other pictures seemingly related (but with a lower standard of evidence).
There are ten watercolours. Eight are in a group at the Mitchell Library (SLNSW-M PX*D 73). Of these, four have a reverse inscription: "– Eyre Esqr –" (probably by Gill) and all can be reasonably identified as being for Eyre based on subject matter and date. Thank you to SLNSW for searching for provenance of this group. NLA NK2041 is included as a twin of one in this group. AGSA 0.35 is linked to Eyre by subject matter, date and provenance. The remaining watercolour, "Native Sepulchre", is identified as Eyre's based on comparison with his book plate.
I also include some pictures with not much evidence, but which gell with this group. They are a corroboree watercolour that may have been for Alex Murray and three wash drawings corresponding to Eyre's text on Aboriginal burial.
To see these works, with accompanying notes, just scroll down or jump to the List of Works.
---
References
Angas, George French. A Catalogue of Paintings by George French Angas, Illustrative of the Natives and Scenery of New Zealand and South Australia : Also Sketches in Brazil, Cape Verde Islands, New South Wales, &c. &c. S.n., 1846. Accessed 24 Dec 2020. <https://search.sl.nsw.gov.au/permalink/f/lg5tom/SLNSW_ALMA21143884040002626>
Appleyard, Ron. & Fargher, Barbara. & Radford, Ron. & Art Gallery of South Australia. (1986). S.T. Gill : the South Australian years, 1839-1852. Adelaide : Art Gallery of South Australia
Eyre, Edward John. & Grey, George. (1985). Reports and letters to Governor Grey from E.J. Eyre at Moorunde. Adelaide : Sullivan's Cove
Eyre, 1845. Journals of expeditions of discovery into Central Australia, and overland from Adelaide to King George's Sound, in the years 1840-1 : sent by the colonists of South Australia, with the sanction and support of the government : including an account of the manners and customs of the aborigines and the state of their relations with Europeans – Volume 1 – Volume 2 .
Jones, Philip G. and Angas, George French. and National Library of Australia, issuing body. and South Australian Museum, issuing body. Illustrating the Antipodes : George French Angas in Australia & New Zealand, 1844-1845 / Philip Jones. NLA Publishing, Canberra ACT. South Australian Museum, Adelaide SA. 2021
Rudolph, Ivan. [Eyre] Timeline – mainly for researchers, accessed 06 Sep 2021, <https://ivanrudolph.com/eyre-timeline-and-data-mainly-for-researchers/>
Rudolph, Ivan. 2013, Eyre : the forgotten explorer / Ivan Rudolph HarperCollins Sydney South, NSW
State Library of South Australia. Edward J. Eyre : SUMMARY RECORD, accessed 07 Sep 2021, <https://www.catalog.slsa.sa.gov.au:443/record=b2186928~S1> and Finding aid (special lists).
---
Notes
1. Rudolph 316.
2. Jones 185-187.
3. South Australian Register, 6 November 1844: 2. <http://nla.gov.au/nla.news-article27448412>
4. Appleyard 26 (cat. 22 and 23).
5. South Australian, 17 December 1844: 2. <http://nla.gov.au/nla.news-article71613657>
6. South Australian Register, 18 December 1844: 3. <http://nla.gov.au/nla.news-article27448709>
7. Appleyard 115, note 47.
8. Trevor Lawrie, "From Soil and Seed. New Frontiers - South Australia", <https://lawriefamily.info/new-frontiers.html>, Accessed 22 September 2021.
9. South Australian Register, 4 October 1843: 2. <http://nla.gov.au/nla.news-article27445649> and 18 October 1843: 2. <http://nla.gov.au/nla.news-article27445748>
10. Southern Australian, 27 February 1844: 2. <http://nla.gov.au/nla.news-article71628422>
11. National Trust of South Australia Coromandel Valley & Districts Branch, "Alexander Murray and Family", <http://cvdnt.org.au/our-people/early-settlers/alexander-murray-and-family>, Accessed 17 August 2018.
12. The Spectator review was reprinted in: South Australian Gazette and Colonial Register 24 January 1846: 4. <http://nla.gov.au/nla.news-article195933500>
13. Adelaide Observer, 21 March 1846: 8. <http://nla.gov.au/nla.news-article158922072>
14. The Glasgow Herald, Monday 10 November 1845: 5 of 6, col. 2. Accessed 8 Sep. 2021 <https://news.google.com/newspapers?nid=GGgVawPscysC&dat=18451110&printsec=frontpage&hl=en>
15. The South Australian News (London), May 1846: 40. Accessed 10 Sep 2021. <https://www.nla.gov.au/ferguson/14606046/18460500/00000005/5-8.pdf>
List of Works
You can scroll down to see all pictures along with detailed notes or click a link to jump to a specific work from the list.
Detailed notes each include a link to the map location for the view where available.
Dates in the descriptive text are generally in yyyy-mm-dd format and more specifically in Extended Date/Time Format (EDTF) .
---
Natural Avenue near Eyre's Station on the Murray, South Australia, 1842 | AGSA 709HP82
Natural Avenue near Eyre's Station on the Murray, South Australia, 1842 | Art Gallery of South Australia 709HP82
Artist: Frome, E.C. | Date: 1842-03~
This is E.C. Frome's annotated sketch, which would have been the basis for Gill's SLNSW-M PX*D 73 f.2.

This is Moorunde on the River Murray, as it would have looked before 1841 when Eyre, the newly appointed Resident Magistrate and Protector of Aborigines on the Murray, made it his base. Eyre first came across this unforgettable natural avenue of gum trees on an expedition in June 1839 (Rudolph). There are Aboriginal people (right foreground); at left is the river with its cliffs and there is a canoe on the river.

Date teken from companion sketch AGSA 709HP74.

359
---
Natural avenue of trees at Moorunde, River Murray | SLNSW-M PX*D 73 f.2
Natural avenue of trees at Moorunde, River Murray | Mitchell Library, State Library of New South Wales PX*D 73 f.2
Artist: Gill, S.T. | Date: 1844-05~ | Appleyard cat. 34
Catalogue:
S.T. Gill, E.J. Eyre, Symmetry 1844
This is Moorunde on the River Murray, as it would have looked before 1841 when Eyre, the newly appointed Resident Magistrate and Protector of Aborigines on the Murray, made it his base. Eyre first came across this unforgettable natural avenue of gum trees on an expedition in June 1839 (Source: Rudolph). There are Aboriginal people (foreground and middle ground). At left is the river with its cliffs. Also at left is a canoe tree or scar tree, thus linking this watercolour to the companion picture showing fishing from a bark canoe (SLNSW-M PX*D 73 f.1).

This watercolour is identified as being for E.J. Eyre, based on subject matter, date and being one of eight in a library catalogue group in which four have a reverse inscription: "– Eyre Esqr –".

This subject of bark canoes is treated in Eyre's book. "[The natives] are useful also in cutting bark canoes to cross a river, should such impede the progress of the party, and in diving for anything that may be lost in the water, &c. &c." (Eyre, 217) "At the period of the floods ... another method of spearing fish is practised from a canoe (mun) made out of a solid sheet of the bark of the gum-tree (eucalyptus) ..." (Eyre, 263)

Gill's painting is based on E.C. Frome's "Natural avenue near Eyre's station on the Murray, 1842" (AGSA 709HP82). A similar location appears, albeit a little later in time, as a plate in Eyre's book titled "Distribution of flour at Moorunde" by George Hamilton with fewer trees and two of Eyre's buildings in the background.

44
---
Aboriginal people fishing from a canoe and from the river bank | SLNSW-M PX*D 73 f.1
[Spear & net fishing from a canoe and from the riverbank] | Mitchell Library, State Library of New South Wales PX*D 73 f.1
Artist: Gill, S.T. | Date: 1844-05~ | Appleyard cat. 35
Catalogue:
S.T. Gill, E.J. Eyre, Symmetry 1844
This picture illustrates Aboriginal fishing methods, probably, given the context, as originally observed at Moorunde. Three Aboriginal people – one of whom is a bearded man – fish with rod, line and float from a log on the river bank. Four women are seated in the canoe. Another person (probably a man) stands in the canoe with spears and a pole for fishing. A sixth person squats over a net.

This watercolour is identified as being for E.J. Eyre, based on subject matter, date and being one of eight in a library catalogue group in which four have a reverse inscription: "– Eyre Esqr –".

This subject is treated in Eyre's book. "At the period of the floods, and when they have nearly attained their height, and the young reeds and rushes begin to shew themselves above the surface of the water, near the bank of rivers or of lagoons formed by the floods in the alluvial flats behind, another method of spearing fish is practised from a canoe (mun) made out of a solid sheet of the bark of the gum-tree (eucalyptus) ..." Eyre, 263.

"I have never seen the natives use hooks in fishing of their own manufacture, nor do I believe that they ever make any, though they are glad enough to get them from Europeans." Eyre, Vol. 2, 266-7.

George French Angas' 1846 London exhibition included a work of a similar description: No. 161.14 "Murray River, natives spearing fish in a bark canoe".

43
---
Aboriginal man with skin coat and club; Aboriginal women fishing for crayfish; Aboriginal implements | SLNSW-M PX*D 73 f.3
[Adult male surrounded by various implements] | Mitchell Library, State Library of New South Wales PX*D 73 f.3
Artist: Gill, S.T. | Date: 1844-05~ | Appleyard cat. n/a
Catalogue:
S.T. Gill, E.J. Eyre, Symmetry 1844
This composite seems designed for a book plate. At centre a bearded Aboriginal man wears a possum skin cloak and holds a wirri. The scene at bottom is a small version of "River Murray native women fishing for crawfish – from sketch of Mr G. Hamilton" (SLNSW PX*D 73 f.6).

This watercolour is identified as being for E.J. Eyre, based on subject matter, date and being one of eight in a library catalogue group in which four have a reverse inscription: "– Eyre Esqr –".

Eyre writes: "The body dress is simple; consisting of the skins of the opossum, the kangaroo, or the wallabie, when they can be procured. A single garment only is used, made in the form of an oblong cloak, or coverlet ... The cloak is worn with the fur side outwards, and is thrown over the back and left shoulder, and pinned on in front with a little wooden peg; the open part is opposite the right side, so as to leave the right arm and shoulder quite unconfined, in the male; the female throws it over the back and left shoulder, and brings it round under the right arm-pit, and when tied in front by a string passing round the cloak and the back, a pouch is formed behind, in which the child is always carried. In either if the skin be a handsome one, the dress is very pretty and becoming." (2:210)

Gill may have prepared this for the section of Eyre's book entitled "Manners and Customs of the Aborigines of Australia", but it was not used.

199
---
Aboriginal woman and child; Aboriginal implements and ornaments | SLNSW-M PX*D 73 f.4
[Mother and child, surrounded by various implements and ornaments] | Mitchell Library, State Library of New South Wales PX*D 73 f.4
Artist: Gill, S.T. | Date: 1844-05~ | Appleyard cat. n/a
Catalogue:
S.T. Gill, E.J. Eyre, Symmetry 1844
This composite seems designed for a book plate. In the centre vignette an Aboriginal woman is draped by a white blanket with blue stripe – the sort that would have been issued by Eyre to the Aboriginal people at Moorunde.

This watercolour is identified as being for E.J. Eyre, based on subject matter, date and being one of eight in a library catalogue group in which four have a reverse inscription: "– Eyre Esqr –".

Gill may have prepared this for the section of Eyre's book entitled "Manners and Customs of the Aborigines of Australia", but it was not used. The content here is similar to that on Eyre's plate facing 2:209.

200
---
River Murray native women fishing for crawfish - from sketch of Mr G. Hamilton | SLNSW-M PX*D 73 f.6
River Murray woman fishing for crawfish - from sketch of Mr G. Hamilton | Mitchell Library, State Library of New South Wales PX*D 73 f.6
Artist: Gill, S.T. | Date: 1844-11~ | Appleyard cat. n/a
Catalogue:
S.T. Gill, E.J. Eyre, Symmetry 1844
Aboriginal women work together in line to catch crayfish (eukodko/ukodko) in the flood waters of the Murray River. The river flats have been inundated, as have the colonists' post and rail fence. The foreground reclining figure appears to be the luxuriating indolent male of Eyre's description.

In another version of the same scene (NLA NK2041), Gill notes it is "from Mr Hamilton's sketch". So this too is based on an (unknown) original sketch by George Hamilton.

This watercolour is positively identified as being for E.J. Eyre, having a reverse inscription: "– Eyre Esqr –".

This subject is treated in Eyre's book. "At Moorunde, when the Murray annually inundates the flats, fresh-water cray-fish make their way to the surface of the ground from holes where they have been buried during the year, in such vast numbers that I have seen four hundred natives live upon them for weeks together, whilst the numbers spoiled or thrown away would have sustained four hundred more. This fish is an excellent and nutritious article of food, and would be highly prized by the epicure. It is caught by the women who wade into the water in a long close line, stooping down and walking backwards, whilst they grope with their hands and feet, presenting a singular, and to the uninitiated, an incomprehensible spectacle, as they move slowly backwards, but keep the line regular and well preserved, as all generally occupy the same position at one time. When a cray-fish is caught the large claws are torn off to prevent the animal from biting, and both claws and body are put into a small net suspended from the neck for that purpose. In two or three hours a woman will procure as many fish as will last her family for a day. The men are too lazy to do anything when food is so abundant, and lie basking under the trees in luxurious indolence, whilst their wives, mothers, or sisters are engaged in cooking for them." Eyre, Vol. 2, 252-3.

George French Angas' 1846 London exhibition included a work of a similar description: No. 159.21 "Women on back waters of Murray fishing for cray-fish".

45
---
Native women fishing on the Murray (for Cray-fish "Eukodko") - from Mr Hamilton's sketch | NLA NK2041
Native women fishing on the Murray for crayfish [...] from Mr Hamilton's sketch | National Library of Australia NK2041
Artist: Gill, S.T. | Date: 1844-05~ | Appleyard cat. 36
Catalogue:
S.T. Gill, E.J. Eyre, Symmetry 1844
Aboriginal women work together in line to catch crayfish (eukodko/ukodko) in the flood waters of the Murray River. The river flats have been inundated, as have the colonists' post and rail fence. The foreground reclining figure appears to be the luxuriating indolent male of Eyre's description.

Captioned by Gill: "Native women fishing – on the Murray" to which has been added "for Cray-fish 'Eukodko'"."Eukodko" / "Ukodko" is the name given for crayfish in Eyre's book. Signed "S.T.G. from Mr Hamilton's sketch". Gill's painting is based on an (unknown) original sketch by George Hamilton.

This is another version of SLNSW PX*D 73 f.6. For more detail, see the description of that work.

George French Angas' 1846 London exhibition included a work of a similar description: No. 159.21 "Women on back waters of Murray fishing for cray-fish".

40
---
Natives crouching emu | SLNSW-M PX*D 73 f.7
Natives crouching [i.e. stalking] emus | Mitchell Library, State Library of New South Wales PX*D 73 f.7
Artist: Gill, S.T. | Date: 1844-11~ | Appleyard cat. n/a
Catalogue:
S.T. Gill, E.J. Eyre, Symmetry 1844
Two Aboriginal men, with spears and spear-throwers, disguise themselves with branches as they stalk a pair of emu.

This watercolour is positively identified as being for E.J. Eyre, having a reverse inscription: "– Eyre Esqr –".

This subject is treated in Eyre's book. "A native travelling with his family through the woods, when he sees a kangaroo feeding or sleeping, will steal silently and cautiously upon it, keeping, as he advances, a tree or shrub between himself and the animal, or holding up before him, if he be in an open place, a large branch of a tree, until sufficiently near to throw the fatal weapon ... The emu is taken similarly to the kangaroo." Eyre, Vol. 2, 276-8.

George French Angas' June 1845 Adelaide exhibited included a work titled "Tattaayra (sic.) sneaking the Emu". South Australian Register, 21 June 1845: 2. <http://nla.gov.au/nla.news-article73842625>. Angas' 1846 London exhibition also included a work of a similar description: No. 208 "Tattayarra Natives sneaking Emus, in the country beyond the Murray". A similar (but cropped) image was used by Angas as the title page sketch of his book "Savage Life and Scenes" (September 1846).

46
---
Native Fight | SLNSW-M PX*D 73 f.8
Native Fight | Mitchell Library, State Library of New South Wales PX*D 73 f.8
Artist: Gill, S.T. | Date: 1844-11~ | Appleyard cat. n/a
Catalogue:
S.T. Gill, E.J. Eyre, Symmetry 1844
Aboriginal men fight with spear, club, spear thrower and shield.

This watercolour is positively identified as being for E.J. Eyre, having a reverse inscription: "– Eyre Esqr –".

This subject is treated in Eyre's book. "If the meeting of the tribes be for the purpose of war, a favourable situation is selected by one of the parties, and notice is sent to the other, who then proceed to the place of meeting, where both draw out their forces in opposing parallel lines. Day-break, or nearly about sunset in the evening, are the times preferred for these engagements, as the softened light at those hours does not so much affect the eyesight, and the spears are more easily seen and avoided. Both parties are fully armed with spears, shields, and other weapons, and the fight sometimes lasts for three or four hours, during which scarcely a word is spoken, and but little noise of any kind is heard, excepting a shrill cry now and then, when some one is wounded or has a narrow escape. Many are injured generally on both sides, and some severely so; but it rarely happens that more than one or two are killed, though hundreds may have been engaged." Eyre, Vol. 2, 222-223.

201
---
Crater of an extinct volcano | SLSA B 2434/17
Crater of an extinct volcano | State Library of South Australia B 2434/17
Artist: Henderson, James | Date: 1843-07~/1845~
The view is of a rock formation seen on Captain E.C. Frome's 1843 northern expedition, which at the time was thought to be a volcanic crater. Located south-west of Lake Frome near Reap(ing) Hook Hill. This sketch is by expedition member James Henderson. Captain Frome is probably one of the two characters in the scene.

"We crossed a part of the low hills around us and came to a very singular spot, which we had every reason to believe was the crater of an extinct volcano. Masses of scoria and ironstone lay strewn around in every direction. It was a dreary, wild-looking place, not a blade of grass and scarcely a green shrub to be seen, but the whole hill appeared to have been just raised from a subterranean fire, covered as it was with huge fragments of black scoria that seemed to have recently cooled." (Extract from James Henderson's narrative. Auhl & Marfleet, 70.)

"July 29th ... I found in the low hills what appeared to be an extinct volcano ... I then returned to the camp which was about 1½ miles back ... July 30th. – We started at a ½ to 10 and sending on the cart for the high land ahead we rode to look at my volcano & Capt. Frome agreed with me that it was decidedly volcanic, as all the rocks had the marks of fusion." (Extract from George Hawker's journal. Auhl & Marfleet, 98.)

Reference:
Auhl, Ian. & Frome, Edward Charles. & Marfleet, Denis. & Henderson, James. & Hawker, George Charles. (1977). Journey to Lake Frome 1843 : paintings and sketches by Edward Charles Frome and James Henderson. Blackwood, S.A : Lynton Publications

Map | S. T. Gill and Frome expedition 1843

438
---
Crater of an extinct volcano | AGSA Unknown
Crater of an extinct volcano | Art Gallery of South Australia Unknown
Artist: Frome, E.C. | Date: 1843-08~/1844~
The view is of a rock formation seen on Captain E.C. Frome's 1843 northern expedition, which at the time was thought to be a volcanic crater. This is a watercolour by Frome and there is another sketch by expedition member James Henderson (SLSA B 2434/17). See that sketch for detail on the expedition and their coming across this location.

Image is second from top. Source: AJCP Frome Album No. 1. 13a Crater of an extinct volcano, 1843. Watercolour. 12.5 x 17.8cm.

AGSA accession number unknown.

Map | S. T. Gill and Frome expedition 1843

558
---
Crater of extinct Volcano - From Hon'l Capt. Frome's northern Sketches | SLNSW-M PX*D 73 f.5
Crater of extinct Volcano - From Hon'l Capt. Frome's northern Sketches | Mitchell Library, State Library of New South Wales PX*D 73 f.5
Artist: Gill, S.T. | Date: 1844-11~ | Appleyard cat. 27.2
Catalogue:
S.T. Gill, E.J. Eyre, Symmetry 1844
The view is of a rock formation seen on Captain E.C. Frome's 1843 northern expedition, which at the time was thought to be a volcanic crater.

Gill's picture is based on Frome's watercolour. Another sketch was made by expedition member James Henderson (SLSA B 2434/17). Unlike Henderson's sketch, there are no people in this scene. This is the earliest known of Gill's oft repeated illustrations of this scene.

This watercolour is positively identified as being for E.J. Eyre, having a reverse inscription: "– Eyre Esqr –".

This subject is treated in Eyre's book. "Since my return from the expedition, a party has been sent out under Captain Frome, the Surveyor-General, in South Australia, to examine the south-east extremity of Lake Torrens; the following is the report made by that officer upon his return... 'At one spot, particularly, about 30°, there were marked indications of volcanic action, and several hollows resembling small craters of extinct volcanoes'." Eyre, Vol. 2, 116, 122.

Map | S. T. Gill and Frome expedition 1843

197
---
Eyre's first station on the Murray, March 1842 | AGSA 709HP74
Eyre's first station on the Murray, March 1842 | Art Gallery of South Australia 709HP74
Artist: Frome, E.C. | Date: 1842-03~
E.C. Frome's annotated sketch, which would have been the basis for Gill's AGSA 0.35/697HP10.

The scene is the avenue of trees and Eyre's station at Moorunde on the River Murray. Moored at left is the cutter "Water Witch" which sank in December 1842.

Reference Wikipedia contributors, "Water Witch (1835 cutter)," Wikipedia, The Free Encyclopedia, https://en.wikipedia.org/w/index.php?title=Water_Witch_(1835_cutter)&oldid=1007723095 (accessed September 6, 2021).

360
---
Old police station, Moorundie, South Australia, 1843 | AGSA 697HP10
Old police station, Moorundie, South Australia, 1843 | Art Gallery of South Australia 697HP10
Artist: Gill, S.T. | Date: 1844 | Appleyard cat. n/a
Catalogue:
S.T. Gill, E.J. Eyre, Symmetry 1844
A pencil drawing probably based on E.C. Frome's annotated sketch, AGSA 709HP74. It is half the size of AGSA 0.35 and is likely the basis for that watercolour.

I haven't been able to examine this work.

32
---
Moorunde - old Police Station and Mr Eyres house from sketch by Hon'ble Capt. Frome | AGSA 0.35
Old Police Station and Edward John Eyre's House at Moorundie, River Murray, 1842 | Art Gallery of South Australia 0.35
Artist: Gill, S.T. | Date: 1844 | Appleyard cat. 26
Catalogue:
S.T. Gill, E.J. Eyre, Symmetry 1844
The scene is the avenue of trees and Eyre's station at Moorunde on the River Murray.

Appleyard notes the reverse inscription "Moorunde old Police Station / and Mr Eyres house from / Sketch by Hon'ble Capt. Frome". Dated 1844 by Gill, this is likely to have been painted for Eyre based on Frome's March 1842 sketch (AGSA 709HP74). That annotated sketch identifies the police hut (centre right) and "Eyre's shanty" (far right). Both works feature those buildings as well as cutter "Water Witch" which sank at its mooring on 5 December 1842.

As noted by Appleyard (cat. 26) this watercolour was likely for E.J. Eyre who "took it to England where it apparently became the property of the South Australian Company and in 1846 may have been used by James Allen to illustrate his lectures". The subject matter corresponds with James Allen's lecture 2, dissolving view 9.

I haven't been able to examine this work. However it is reproduced in Appleyard and at <http://www.murrayriver.com.au/paddleboats/river-boat-trail-blanchetown/>.

31
---
Natives hunting opposums [i.e. opossums] | NLA R375
Natives hunting opposums [i.e. opossums] | National Library of Australia R375
Artist: Gill, S.T. | Date: 1844~ | Appleyard cat. n/a
This is a scene with three Aboriginal people – one climbing a tree to hunt a possum, while two (clothed) wait below. Gill captioned this vignette himself with a misspelling. This is the same subject as, and is close in time to, a (now unknown) picture Gill did for Eyre's book and which resulted in the plate "Opossum-hunting near Gawler Plains, drawn by E. Gill".

This subject was published in illustration as early as 1813 in "Field sports &c. &c. of the native inhabitants of New South Wales" by John Heaviside Clark. In Clark's picture the Aboriginal people are smoking out the possum, but the scene is otherwise very similar. The possum hunting theme is one oft repeated by Gill.

114
---
Opossum-hunting near Gawler Plains [plate] | SLNSW
Opossum-hunting near Gawler Plains [plate] | State Library of New South Wales
Artist: Gill, S.T. | Date: 1845-08~ | Appleyard cat. n/a
Catalogue:
S.T. Gill, E.J. Eyre, Symmetry 1844
This is a scene with four Aboriginal people – one climbing a tree beside a stream to hunt a possum, while three wait below.

Plate titled "Opossum-hunting near Gawler Plains, drawn by E. Gill" appears in Eyre's "Journals", volume 1, after p.68. The original watercolour for this plate is unknown, but wash drawing NLA R375 is of the same subject and dates to c.1844.

This subject is treated in Eyre's book. "Having ascertained that an opossum has recently been, he then ascends the tree to look for it; this, if the tree be in a leaning position, or has rough bark, is not difficult to him, and he rarely requires any other aid than his hands and feet; but if the bark be smooth, and the tree straight, or of very large dimensions, he requires the assistance of his stone hatchet, or of a strong sharp pointed stick, flattened on one side near the point (called in the Adelaide dialect, "Wadna", in that of Moorunde "Ngakko,"); with this instrument a notch is made in the bark about two feet above the ground ... Having got up the tree, the native proceeds to search for any holes there may be in its trunk, or among the boughs ..." Eyre, 279-282.

This subject was published in illustration as early as 1813 in "Field sports &c. &c. of the native inhabitants of New South Wales" by John Heaviside Clark. In Clark's picture the Aboriginal people are smoking out the possum, but the scene is otherwise very similar. Did Eyre ask Gill to make a similar picture?

The place is identified as "near Gawler Plains" however the scene may not be topographically precise and this seems more of a genre painting.

342
---
Mode of Burial on parts of the Murray River, S. Australia | NLA NK6897/F
Mode of burial on parts of the Murray River, S. Australia | National Library of Australia NK6897/F
Artist: Gill, S.T. | Date: 1844 | Appleyard cat. n/a
Catalogue:
S.T. Gill, E.J. Eyre, Symmetry 1844
The scene is an Aboriginal elevated mortuary platform near a stream, with birds descending and a pair of dingoes below. Sparsely treed hills are in the background.

Captioned below (in ink of another colour): "Mode of Burial on parts of the Murray River, S. Australia". The "Murray River" location in the caption is confusing for here is a small stream – not the mighty Murray. This appears to be a scene near Myponga, not Lake Alexandrina. It is uncertain how this picture got its caption, but it may have been connected with Eyre's plate which was also captioned as being at the Lower Murray.

The reverse is inscribed "Mary Palmer from her Heart loving Brother in Hope", signed "John" and dated 16 December 1844. The sentimental poem "Lights and Shades" by Felicia Hemans is pasted on the back over some brush strokes.

On this date there was a gala occasion at Port Adelaide for the passengers departing on the barque Symmetry for England, the most prominent being E.J. Eyre. The identity of Mary Palmer is unknown. She was not a named passenger on Symmetry, though there were four unnamed servants for Captain (and Mrs) Elder, Robert Gouger and Dr Knott. There is another intriguing possibility that "John" may be John Palmer who was one of the two house carpenters brought out by Samuel Gill, snr. Of course Mary Palmer may not even have sailed on the Symmetry – perhaps Mary was in England. But given the significant event that day it's a good chance this little gift was taken aboard.

86
---
Native Sepulchre, near Myponga Plains, South Australia | Unknown Eyre/RCS
Native Sepulchre, Near Missunga Plains, South Australia | Owner unknown Eyre/RCS
Artist: Gill, S.T. | Date: 1844-05~ | Appleyard cat. n/a
Catalogue:
S.T. Gill, E.J. Eyre, Symmetry 1844
The scene is an Aboriginal elevated mortuary platform near a stream, with birds descending and a pair of dingoes below. Sparsely treed hills are in the background.

This watercolour is the basis for the plate "Mode of disposing of the Dead of the Lower Murray" in Eyre's "Journals". Gill likely painted this for Eyre in 1844 – and probably in May – when Eyre was preparing to leave for England.

Gill painted two almost identical watercolours of this scene, the other being the Angas/SA Museum picture (AA8/4/1) which was used as the basis for George French Angas' plate in "Savage Life and Scenes". One would think the watercolours were likely executed within days of each other.

I shall refer to this watercolour as the Eyre/RCS picture. Long held by the Royal Commonwealth Society (RCS), London, more recently it was in Alan Bond's Dallhold Collection. The current owner is unknown.

This picture was titled "Native Sepulchre, Missunga Plains" when it was reproduced in a 1920 article (Moore 1920) next to another RCS Gill picture - "Scene near the Missunga Plains". "Missunga" in the title is a mistranscription. (Schultz 2017). At the time of writing, "Missunga" appears only twice in Trove digitised newspapers, and both are in the London based South Australian News. (source <https://trove.nla.gov.au/search/category/newspapers?keyword=missunga> accessed 2021-10-04)

I haven't been able to examine this work. A date of 8 May 1842 is said to be on this painting (source DAAO, <http://www.daao.org.au/bio/samuel-gill/, version 2013-03-08>, accessed 2021-09-28). Also Appleyard 1986 (p.63) refers to an 1842 inscription. This seems to have been a misreading and the date could be 8 May 1844. Eyre returned to Adelaide from Moorunde in May 1844. The twin Angas/SA Museum picture is inscribed 1844.

Image source: De Bussy, 54.

Provenance: Royal Commonwealth Society, London | Dallhold Investments Pty. Ltd., Perth | Christie's, Melbourne, 28 July 1992, lot 39 | Menzies, Melbourne, 14/09/2011, lot 76. (Source: <https://www.menziesartbrands.com/items/native-sepulchre-near-missunga-plains-south-australia>)

Additional References:
De Bussy, Diana. and Dallhold Investments. The Alan Bond collection of Australian art / Diana de Bussy Dallhold Investments Pty Ltd Perth, W.A 1990

Moore, William, The artist of the goldfields, pp.535-8 in "United Empire" The Royal Colonial Institute Journal Vol XI, 1920.

165
---
Mode of disposing of the Dead at the Lower Murray [plate] | SLNSW
Mode of disposing of the Dead at the Lower Murray [plate] | State Library of New South Wales
Artist: Gill, S.T. | Date: 1845-08~ | Appleyard cat. 39.2
Catalogue:
S.T. Gill, E.J. Eyre, Symmetry 1844
"Mode of disposing of the Dead at the Lower Murray", "Drawn by E. Gill" is a plate in Eyre's "Journals of expeditions of discovery" (volume 2, after p. 344).

It is based on the Eyre/RCS watercolour by S.T. Gill.

Eyre mentions elevated mortuary platforms as a practice on the lower Murray. "Another method practised upon Lake Alexandrina, is to construct a platform,* or bier upon high poles of pine, put upright in the ground upon which the body is placed, bandages being first put round the forehead, and over the eyes, and tied behind. A bone is stuck through the nose, the fingers are folded in the palm of the hand, and the fist is tied with nets, the ends of which are fastened about a yard from the hands; the legs are put crossing each other." (Vol. 2, chapter 5)

This appears to be a scene more like Myponga, not Lake Alexandrina, and the title has seemingly been given by Eyre to better match his book's text.

348
---
Native Inquest | Unknown Bonhams 2013-11-25 111.1
Native Inquest | Owner unknown Bonhams 2013-11-25 111.1
Artist: Gill, S.T. | Date: 1844/1849 | Appleyard cat. n/a
Catalogue:
S.T. Gill, E.J. Eyre, Symmetry 1844
This is one of a series of three wash drawings portraying Aboriginal mourning and mortuary ceremony. The scenes correspond to text in E.J. Eyre's "Journals of expeditions of discovery". The text is almost identical to W.A. Cawthorne's October 1844 manuscript titled "The Natives of South Australia" in the chapter "Mode of Burial". However it's notable that Cawthorne has the word "Wirkalli", not "wirkatti".

Eyre: "Among the Adelaide natives as soon as a person dies, a loud wailing cry is raised by the relations and friends. The body is immediately wrapped up in the skin or clothing worn during life, and in the course of a day or two, it is placed upon the wirkatti or bier, which is made of branches crossed so as to form the radii of a circle, an examination is then entered upon as to the cause of death, in the following manner. The bier is carried upon the shoulders of five or six persons, over places where the deceased had been living; whilst this is going on, a person is placed under the bier, professedly in conversation with the deceased. He asks, what person killed you? If the corpse say no one, the inquest ceases ..." (Vol. 2, chapter 5)

I haven't been able to examine this series, nor do I know its provenance. Although it corresponds with Eyre's subject matter it may not necessarily have been for him.

570
---
Native Sepulchre, Lake Alexandrina | Unknown Bonhams 2013-11-25 111.2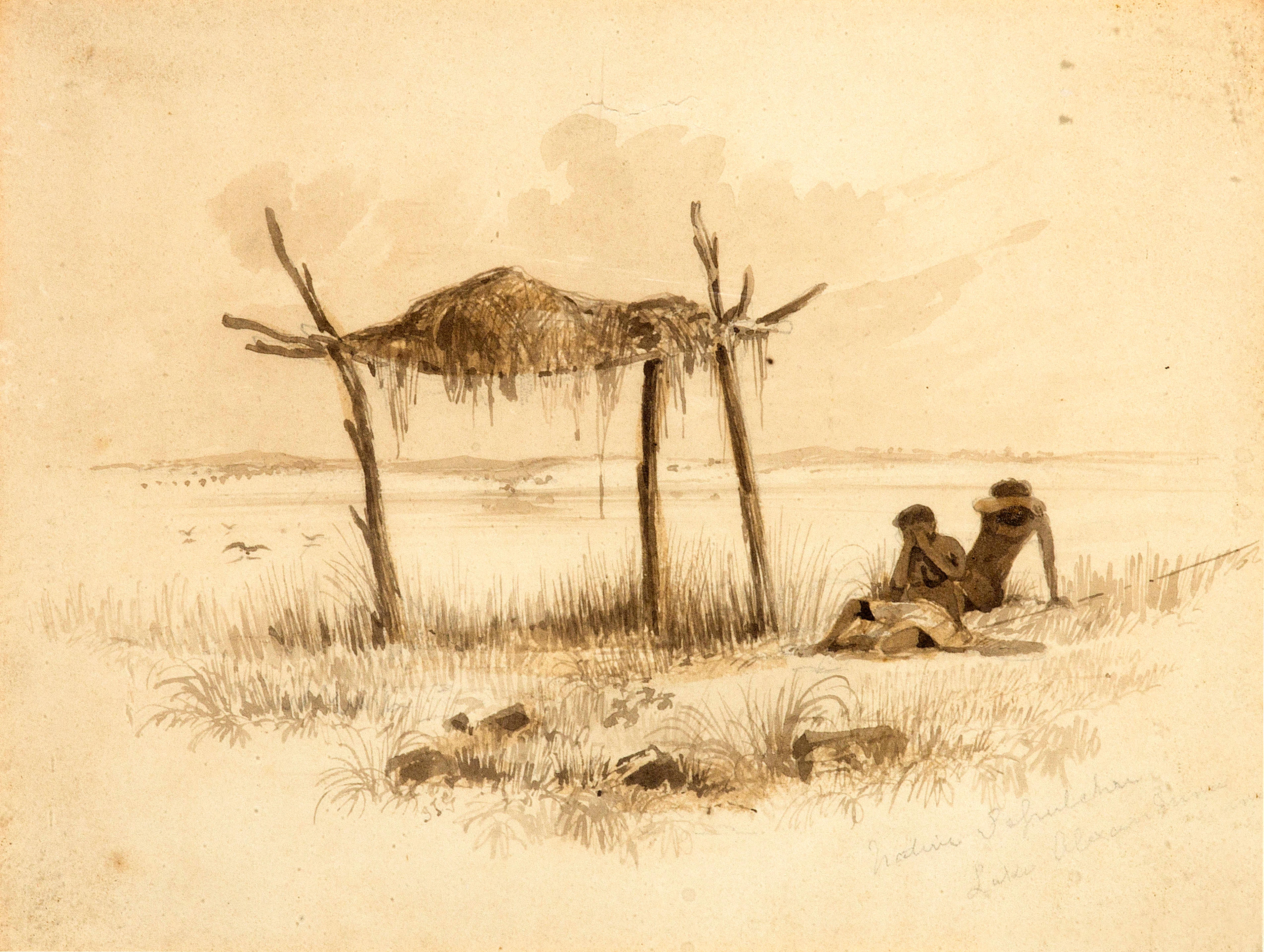 Native Sepulchre, Lake Alexandrina | Owner unknown Bonhams 2013-11-25 111.2
Artist: Gill, S.T. | Date: 1844/1849 | Appleyard cat. n/a
Catalogue:
S.T. Gill, E.J. Eyre, Symmetry 1844
The scene is of an Aboriginal elevated mortuary platform near the edge of Lake Alexandrina. Two people below avert their eyes. This differs from Gill's usual version which features a stream and dingoes.

This is one of a series of three wash drawings portraying Aboriginal mourning and mortuary ceremony. The scenes correspond to text in E.J. Eyre's "Journals of expeditions of discovery". The text is almost identical to W.A. Cawthorne's October 1844 manuscript titled "The Natives of South Australia" in the chapter "Mode of Burial". However it's notable that Cawthorne has the word "Wirkalli", not "wirkatti".

Eyre: "Another method practised upon Lake Alexandrina, is to construct a platform,* or bier upon high poles of pine, put upright in the ground upon which the body is placed, bandages being first put round the forehead, and over the eyes, and tied behind. A bone is stuck through the nose, the fingers are folded in the palm of the hand, and the fist is tied with nets, the ends of which are fastened about a yard from the hands; the legs are put crossing each other." (Vol. 2, chapter 5)

471
---
Native Burial | Unknown Bonhams 2013-11-25 111.3
Native Burial | Owner unknown Bonhams 2013-11-25 111.3
Artist: Gill, S.T. | Date: 1844/1849 | Appleyard cat. n/a
Catalogue:
S.T. Gill, E.J. Eyre, Symmetry 1844
This is one of a series of three wash drawings portraying Aboriginal mourning and mortuary ceremony. The scenes correspond to text in E.J. Eyre's "Journals of expeditions of discovery". Also the text is almost identical to W.A. Cawthorne's manuscript dated October 1844 titled "The Natives of South Australia". It is worth noting Cawthorne has the word "Wirkalli", not "wirkatti".

Eyre: "Among the Adelaide natives as soon as a person dies, a loud wailing cry is raised by the relations and friends. The body is immediately wrapped up in the skin or clothing worn during life, and in the course of a day or two, it is placed upon the wirkatti or bier, which is made of branches crossed so as to form the radii of a circle, an examination is then entered upon as to the cause of death, in the following manner. The bier is carried upon the shoulders of five or six persons, over places where the deceased had been living; whilst this is going on, a person is placed under the bier, professedly in conversation with the deceased. He asks, what person killed you? If the corpse say no one, the inquest ceases ..." (Vol. 2, chapter 5)

569
---
A Native Corroboree at Night c. 1844 | Unknown DM 2005-09-21/30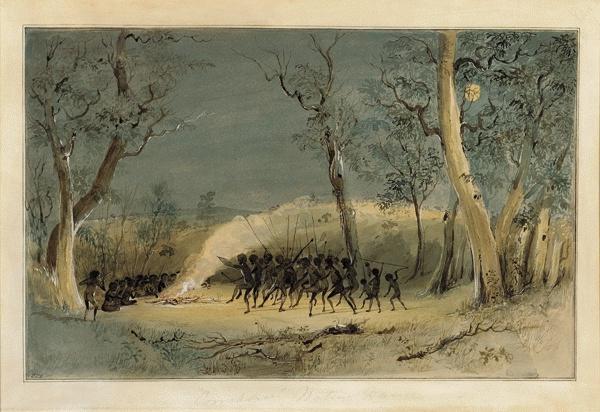 A Native Corroboree at Night c. 1844 | Owner unknown DM 2005-09-21/30
Artist: Gill, S.T. | Date: 1844/1845 | Appleyard cat. n/a
Catalogue:
S.T. Gill, E.J. Eyre, Symmetry 1844
The scene is an Aboriginal corroboree around a fire on a full moon; sparsely treed hills in the background; men and children dance with spears and wirris; spectators seated at left provide accompaniment.

Captioned below: "'Corroboree' Native Dance". The small signature "STG" at bottom left seems to be a later addition and an earlier larger but fainter signature is apparent further in.

This picture's style is consistent with an 1844 date and there is a chance this is the corroboree picture taken to Scotland by Alex. Murray and (presumably) sold by him in London in mid-1846.

Auctioned: Australian & International Fine Art, Deutscher-Menzies, Melbourne, 21/09/2005. Lot No. 30. (Source: "Australian and New Zealand Art Sales Digest" via NLA – https://www-aasd-com-au.rp.nla.gov.au/)

I haven't been able to examine this work.

164
---