Contents
In this article ...
Note: Art work images are not stored but are dynamically displayed from the online services of the holding institutions.
George French Angas Arrives, 1844
George French Angas (1822-1886) arrived in Adelaide from England on 31 December 1843 and announced his grand "South Australia Illustrated" project "under the especial Patronage of Her Majesty Queen Adelaide".1 George French was the eldest son of George Fife Angas, chairman of the South Australian Company and reputedly the colony's largest land holder. Connections facilitated this colonial endeavour through Governor George Grey and Angas senior's local agent Anthony Forster.
William Anderson Cawthorne (1824-1897)
Forster had for a while employed young William Anderson Cawthorne (1824-1897) as a clerk. Cawthorne was a humble school teacher who, since his arrival in 1840, had taken an intense interest in the Aboriginal people and their culture. Little more than a fortnight after French Angas' arrival, Cawthorne noted in his diary:
Yesterday I strolled about for one hour and walked into my former august Master Anthony Forster Esq. He told me that as soon as his imperial highness George French Angas author of a "Tour through Malta & Sicily" &c &c &c &c he should condescend so low as to introduce me to his Majesty for the ostensible purpose of "telling him all I know about the Natives for his intended work". So you see to what an immense height my talents have raised me – see the unparalleled distinction that is awaiting me. Observe the remunerating employment I shall be engaged in but for all this I would rather press real talents of gold or silver than to all the intellectual ones that his august majesty can command.2
Cawthorne appears to be mocking Angas, but his diary instead reads of his early adoration. Probably Cawthorne is dubious of Forster's representation of the opportunity, given the financial and social chasm separating the two. Cawthorne was to tell Angas all he knew about Aborginal culture. Opportunity was one thing, but for Cawthorne at that time, an income was desired more than glory. The diary entry reveals the beginning of this imbalanced relationship.


A portrait and artist exercises (from Cawthorne's sketchbook) | State Library of New South Wales PXB 233 / FL999164

This sketch by Cawthorne is possibly a self-portrait, writing or sketching in his own diary.
Much of what we know about Angas at this time comes from Cawthorne's extensive diaries. Cawthorne impresses as a reliable, if emotive, witness.
Timeline: Angas' Stay
Angas stayed in South Australia for six months, left for another six and returned for another five. Significant dates:
1843-12-31 Angas arrives in Adelaide from England on barque Augustus
1844-02-02 Angas and Cawthorne first meet
1844-07-31 Angas departs Adelaide for New Zealand on schooner John Pirie
1844-10-29 John Howard Angas (the brother of George French Angas): "out with Mr Gill the artist who has come from town to take some sketches"
1845-01-22 Angas returns to Adelaide from New Zealand via Sydney on brig Emma
1845-06-17 F.R. Nixon's controversial letter to the editor regarding Angas and Gill
1845-06-18 to 1845-06-20 Angas' exhibition
1845-07-02 Angas departs Adelaide for Sydney on packet schooner Vanguard


Portrait of an Artist | Dixson Library, State Library of New South Wales DL PXX 60 f.2

A portrait of George French Angas by E.L. Montefiore, 1844 or 1845 (but more probably 1844). (Until now this sketch was just identified by its title, "Portrait of an Artist".)


This is not the place to detail Angas's stay in South Australia; that is thoroughly covered in Jones 2021 (see reference below). This article focuses on Gill's work for Angas.
Out with Mr Gill the artist, October 1844
While George French was absent in New Zealand, the Angases called upon Gill to work for them in the Barossa. On 29 October 1844 John Howard Angas (younger brother of George French Angas and son of George Fife Angas) noted in his diary: "out with Mr Gill the artist who has come from town to take some sketches – took Angaston, 'Wheal Sally', sheep washing and flat below Mr Evans".3
J.H. Angas itemises these four "sketches" which were very likely watercolours. None of these original pictures are known to be extant. However echoes of them are found in a later publication "Description of the Barossa Range and its neighbourhood in South Australia" by Agricola, published in London in 1849 with six plates "From Nature and on Stone by G.F. Angas". (For more on this, see: George French Angas in London and S.T. Gill .)
Appleyard3 does however link two watercolours to this Barossa visit. They are Gawler River scenes (AGSA 795HP30 and 986P53) and are listed below.
It's quite possible some or all of these Barossa pictures went back to George Fife Angas in England with agent Anthony Forster on Symmetry in December 1844 .
Angas Returns, 1845
Angas returned to South Australia from New Zealand in January 1845 and continued to tour and gather material – artefacts and pictures – for "South Australia Illustrated".
May 1845
Throughout his stays Angas was helped by Governor George Grey who took him on several "expeditions" to help build his collection. Angas' final trip with Grey was in April-May 1845 and early in May he was still at Port Lincoln sketching.
Meanwhile in Adelaide, James Allen put up his newspaper business for sale; and, incidentally, F.H. Faulding opened as a chemist in Rundle Street. On 23 and 24 May most of who's who attended the Queen's Birthday ball and levee at Government House, Angas included. He was readying for a project completing return to England.
The newspapers were effusive. John Stephens led the way from his Saturday weekly, the Adelaide Observer.
That talented artist Mr George French Angas, we learn, is about to proceed to England, there to publish, as soon as possible, his very interesting "Illustrations of South Australia," as well as those of New Zealand. They consist of a vast variety of portraits of the natives, representations of their habitations, ceremonies, costumes, and warlike and domestic implements; forming a collection of graphic materials, to be appreciated only by those, who like the writer of this article, have had repeated and gratifying opportunities of viewing them through the kindness and liberality of the artist... In the course of a week or two Mr Angas intends to exhibit his South Australian and New Zealand drawings to the public in the Legislative Council Chamber, by the permission and under the express patronage of his Excellency the Governor and Mrs Grey. The subjects are so varied, so delightfully and truthfully delineated, and so chastely executed, that, independently of our earnest advice to all the lovers of Modern Art in the Colony, who can afford it, to subscribe to these works; we are sure, that in the dearth of amusement for our fair dames, an entertainment will be offered in the exhibition of these drawings, which the ladies of South Australia will be delighted to patronise. A trifling price will be fixed for admission, to cover the necessary expenses of exhibition and catalogues.4
June 1845
A fortnight later Angas was ready to advertise:
SOUTH AUSTRALIA AND NEW ZEALAND.
THE Exhibition of Water Colour Drawings, by Mr George French Angas, objects of interest in South Australia and New Zealand, will take place on Wednesday, Thursday, and Friday next, the 18th, 19th and 20th of June, at the Legislative Council Chamber.
Admission from 10 till 4 o'clock each day by tickets, at 1s. each, to be procured at either of Mr Platts's shops, and at the Observer Office. Catalogues, 6d each, to be had at the doors.
⁂ The proposed Exhibition will not include various views in the neighbourhood of Adelaide, and a number of other landscapes, which want of time previously to the intended exhibition, has prevented Mr Angas from completing, but which have been reserved to be finished with particular care.5
We will see that a possible reason for Angas omitting Adelaide neighbourhood views and landscapes was that those works weren't actually by him. In fact, what could may be Angas' best landscape is one of the Adelaide neighbourhood and I will reason is actually by Gill.
Rising Resentment
In 1844 and 1845 Cawthorne oscillated between his adoration of Angas and his resentment at Angas' treatment of himself and others. He eventually settled on resentment and disapproval. This is abundantly clear in his diaries and, although they were private, Cawthorne is unlikely to have withheld his feelings from several friends, including S.T. Gill, his then art master; jeweller John Henry Pace, who was boarding Angas at the time; and J.M. Skipper, fellow amateur artist. Another who was discontent was Frederick Robert Nixon, another amateur artist and publisher in March of F.R. Nixon's Twelve Views, &c., 1845 .
Nixon's Letter
On 17 June, the eve of George French Angas' exhibition, the South Australian newspaper published a letter from Nixon.
THE FINE ARTS.
TO THE EDITOR OF THE SOUTH AUSTRALIAN.
Sir – We are told in every shop window of the town that an exhibition of water color paintings, executed by Mr Angas, is to take place in the Council Room, in a few days.
I have had the good fortune to see most of them; but if I commence to criticise, it will be demanded whether I am a judge, or whether I can draw better myself? ... I venture to offer a few remarks; anticipating, however, that as they will not be enthusiastic in his favor, the general prejudice towards his drawings will overrule anything I have to say.
The style of Mr Angas's drawings is essentially limited, that is – he adopts the same to all his subjects. If he paints a fryingpan, a plate, or a butterfly, he carries the same minute rules, by which he copied them, into his landscapes. Now, all the world know that landscapes, to please, must be drawn with great freedom and spirit, and must possess what artists call "general effect", and require the whole attention towards this as the grand object; for experience proves that, without it, no matter how beautiful soever the work may be in details, it will be insipid, flat, and unattractive. In landscapes, minuteness of detail must bend to this "general effect". ... Have Mr Angas's landscapes a "general effect?" – No. Are they minute in details? – Particularly so. His forte is minuteness – native spears, shields – the natives as subjects ...
As there is an extensive work to be published, it is to be lamented that he did not altogether confine himself to his branch, and that another artist of less celebrity but of real talent – who resides in the colony in comparative obscurity – had not undertaken the landscape part; I allude to Mr Gill. Any one who can comprehend the nature of a landscape drawing, and who has once seen any of his works, would undoubtedly give him the palm, and feel a desire to see others, for coloring, truth, and "general effect" he undoubtedly stands pre-eminent. He confines himself chiefly, I believe, to that one branch of the art; modestly feeling, perhaps, that it is impossible to excel in all.
To those who have not yet had the pleasure of viewing the drawings of this gentleman, I can only recommend them to visit him. His style is particularly pleasing, and where he does venture composition, as in his groups of figures, he is particularly successful. He is rapid – perhaps too much so – in the execution of his works; but this quickness produces that character of life and spirit which always distinguishes his performances, and which is the chief charm about them ...
I do not offer these humble remarks from any invidious feelings, but think it a pity that one man should monopolize eclat for talents which, at best, are equivocal, while another who does possess them should remain unobserved and unnoticed. But it is an every-day occurrence, and therefore ought to be too trite to merit remark.
I am, Sir,
Your obedient servant,
N. R. F.6
["N.R.F." was the nom-de-plume for F.R. Nixon.]
One could read Nixon's letter as opinion in a specialist subject, to be accepted or rejected, and the responses to his letter were partly such. But that would be to miss the essence of his complaint, which may've been obscured by frying pan bluntness. Nixon:
was annoyed by Angas' self-promotion – flyers "in every shop window"
had already seen most of Angas' watercolour paintings
expected others would criticise him for not being an art expert
expected to be ignored due to a "general prejudice towards" Angas
thought Angas was excellent at detail and accuracy, but not at landscape
reckoned Gill was "pre-eminent" in landscape painting
regretted Gill was not doing the landscapes for "South Australia Illustrated"
regretted Gill was not better known.

The City of Adelaide from Mr. Wilson's Section on the Torrens, June 1845 | Art Gallery of South Australia 721HP1

This watercolour has until now been attributed to Angas. It's emblematic of the Angas project and the 1845 controversy. It's the furious duck paddling of June 1845. This was the Adelaide neighbourhood omitted from Angas' exhibition. This was the "rapid" Gill excelling at landscape. (A detailed analysis is below.)
James Allen was the first to reply to "N.R.F.". In his editorial the following day7, he identified the name behind the nom de plume and personally attacked Nixon as a "blastard" who "bilked" him of a guinea with his F.R. Nixon's Twelve Views, &c., 1845 ! Allen thought Nixon should have reserved his opinion until after the public had had a chance to see the exhibition.
Heat in Allen's reply seemed to emanate from his mentioned long term dislike for Nixon and what he thought was Nixon's impure motive. But Allen too had his own interests. This was his penultimate edition as editor of the South Australian Register. He had already sold the masthead and was looking to his own new project . He wouldn't have wanted to indirectly offend Fife Angas, chairman of the South Australian Company whose favour he would soon seek.
Exhibition Catalogue
Angas held his three day exhibition. No catalogue is known to be extant. However several works are described in the newspaper reviews and it was reported that Angas exhibited 240 drawings of which nearly 100 were of New Zealand and 40 were connected to South Australia.8 Tellingly the 40 was well short of the 60 plates Angas would finally deliver in "South Australia Illustrated". No pictures of the Adelaide neighbourhood were reported.
Further Review
The exhibition was reviewed in the Adelaide press. James Allen had a fresh chance at diplomacy in his next (and last) issue as editor and proprietor of the South Australian Register. He reviewed Angas' exhibition himself and this time he was conciliatory and oh so subtle.
Of Mr Angas's sketches of the South Australian natives, too much cannot be said in the way of praise ... Next to the full-length portraits of our South Australian natives, if not before them, the pictures which most attracted our attention, and with which we were best pleased, were the corroboree attitudes, the Kure and Palti dances, the habitations or wurleys of the natives, and their modes of disposing of the dead. Here Mr Angas ... has succeeded to admiration ... as to the native modes of disposing of the dead, we only returned yesterday from inspecting one of those which Mr Angas has delineated ... and can therefore speak to its great fidelity; and, as regards another, we have long had by us a sketch taken by an artist of much skill and experience on the spot, which fully bears out the correctness of Mr Angas's general description.
To the same unqualified praise is Mr Angas entitled for his delineation of native implements and ornaments, of native costumes and weapons. His facilities for acquiring information on these points has been great, or he could not have obtained a tithe of what he evidently possesses in treble the time. We look with no small anxiety for the letter press intended to accompany these delineations, when they appear as "South Australia Illustrated" ...
Of Mr Angas's studies at sea and South Australian landscapes, we regret our inability to speak in the same terms of unqualified approval ... [Allen excepts Mount Gambier and Mount Schank pictures from this disapproval.] ... How Mr Angas could have got through so much work in so short a time is the surprise of every one, and speaks highly for his persevering industry, and his love for his art, as well as his readiness in it...
Our notice of Mr Angas's South Australian sketches must be concluded with a brief reference to his entomological sketches. Of these he has three sheets intended to form three plates, in his forthcoming work, to be entitled "South Australia Illustrated." Mr Algernon Wilson, long known among as as "NATURAE AMATOR," has furnished the greater part of the subjects for these sketches; and of the sketches themselves too much, we think, cannot be said in praise of their extreme accuracy.9
In referring to Aboriginal "modes of disposing of the dead", Allen refers to a native sepulchre picture by another "artist of much skill and experience" – probably Gill. (Angas would later publish both Gill's and his own images.) And in referring to Angas' "facilities for acquiring information" and everyone's "surprise", Allen likely hints at Cawthorne's role in supplying Aboriginal artefacts, information and "letter press" – a task beyond Angas' "industry" in such a brief stay. Allen also acknowledges Charles Algernon Wilson's entomological contribution.
Allen's review was both an A+ and a B-. Later Angas would extensively but selectively quote this article in his London exhibition catalogue. But he also invented: "Of Mr Angas's sketches of the South Australian natives and scenery, too much cannot be said in the way of praise." "And scenery" was Angas' invention. This was the whole point of contemporary public criticism of Angas – that he wasn't good at landscape. Angas had two ways around the criticism: (i) invent praise never given and (ii) claim authorship of landscape works that weren't his.
Cawthorne on Angas
Cawthorne complained about such behaviour by Angas. Immediately following the Adelaide exhibition, Cawthorne wrote in his diary:
22 June. "Angas has behaved like a mean spirited rascal ... I shall blow him up nicely when he leaves the colony. Everyone is astonished at his shabby treatment of me."
4 July. "News. Angas is going to leave to morrow – so says report. The little insignificant puppy he shall not leave S. Australia without a warm letter from me the ungrateful varmint. Ingratitude I hate as much as injustice. [Cawthorne writes also of Angas' treatment of Pace.] ... everyone cries against him. He stands indebted &frac34 of his work in the native department to me and then when I meet him in the streets – hardly to recognize me."
Wednesday [9 July?]. "I merely wanted a reply (to prove hereafter if required) that he had given me his word that my name should be inserted in the preface of his extended work. This he would never have done had I not postulated an acknowledgement of my services. For his word no one can rely upon."
"Selfishness is at the root of all this evil. We gratify our whims our foibles we indulge in our propensities and feelings ... there is not one in the colony that has had better opportunity to study his character under the various phases that it presented itself – W.A.C. The Life and character of Mr. George French Angas Esquire during his stay in S. Australia by Wm. A. Cawthorne ..."
19 July. "He wished to be the Alpha in this colony & carried this ridiculous idea so far that in copying other people's sketches – to acknowledge them he thought was a desecration of himself & a lowering of his pre-eminence derogatory to his character as an Amatuer Artist. In fact it was unbounded presumption, unheard of vanity on the part of the Owner ever to expect such a distinction from him – to such lengths he carried his vanity and such was his notions upon the efforts of others however respectable the others might be or however excellent the subjects themselves."
Ouch!
The purpose of these quotes is not to heap shame on Angas' character, flawed though it may have been. The purpose is to show the broader resentment towards him, the consequent emotion behind Nixon's correspondence and the need to re-examine original authorship of Angas' purported works. Angas may have taken credit in the 1840s but what can 2020s analysis reveal about Gill's contributions?
Angas to London
George French Angas left South Australia a fortnight after his art exhibition and its associated controversy. He arrived back in England in February 1846 and soon exhibited at London's Egyptian Hall. Angas published his large work "South Australia Illustrated" and his book "Savage Life and Scenes". A few years later he also lithographed for the book "Description of the Barossa Range and its neighbourhood in South Australia". To see how Angas made use of Gill's works, see: George French Angas in London and S.T. Gill .
Jones (2021) on Gill & Angas
Philip Jones' book Illustrating the Antipodes : George French Angas in Australia & New Zealand, 1844-1845 was released in August 2021, the companion book to an exhibition. I disagree with his authorship claims of several works.
Attributions
Jones claimed several pictures were Angas' copies of Gill's work.
... a watercolour of the [Agricultural and Horticultural Show] by Angas, auctioned in 2011, has been considered to be a copy of an S.T. Gill original. [90. The Angas watercolour was sold at auction by Bonham's Australia in August 2011, initially described as an Angas original, but amended before the auction to indicate its status as a copy of Gill's original.]10
And:
[Angas] had apparently ignored the opportunity to depict the Horticultural Show, possibly aware that S.T. Gill's painting was available to be copied. [15] George French would copy at least three other Gill paintings, one depicting the departure of Captain Sturt's expedition from Adelaide on 10 August 1844 ... Angas based his engraving Elevated Native Tomb at Myponga Vale ... on his watercolour copy [SAM AA8/4/1] of Gill's original watercolour.
[15. ... A comparison of Gill's original painting with the Angas copy, auctioned by Bonham's Australia in 2011, reveals a number of key differences (not the least being Angas' detailed treatment of smaller background figures), but Angas retained the distinctive colour scheme of Gill's original.]11
Jones' reference to the Bonham's auction is incorrect. The watercolours were initially attributed to Angas – presumably based on family provenance – but the saleroom notices for lot 30 and lot 31 re-attributed them to S.T. Gill and not "a copy of Gill's original".
Native tomb, Myponga (SAM AA8/4/1) was until recently attributed by SA Museum to Gill. I argue this picture is by Gill, and not an Angas copy, both below and at S.T. Gill – Subject – Native Sepulchre .
Whose Originals?
Jones excuses Angas' copying by saying Cawthorne and Gill also "copied".12 Gill was certainly commissioned to work up others' sketches for publication. I documented examples in S.T. Gill, E.J. Eyre and "Symmetry", 1844 and S.T. Gill and Sturt's "Narrative" . And Cawthorne copied both Angas and Gill for the artistic practice.
But copying as such was not the issue. The real issue was and is (i) publication without permission and (ii) representation as one's own original work.
Gill may have painted for Angas in Adelaide on the understanding Angas would claim authorship of a published lithograph print. Grishin documented him doing this later for J.T. Doyle.12 Although we'll never know, Angas and Gill in Adelaide may have come to an arrangement for The City of Adelaide from Mr. Wilson's Section on the Torrens, June 1845 (AGSA 721HP1). But it's a stretch to accept a prior arrangement for the Allen pictures Angas "borrowed" in London, given they were likely unknown to Angas until he saw them in London and there was insufficient time for the seamail. See: George French Angas in London and S.T. Gill .
Having said all this, Angas' 1840s ethics is of less interest to me than S.T. Gill. What might 2020s analysis tell us about Gill's original contributions to the Angas projects?
Conclusion: Gill for Angas
This article identifies paintings by S.T. Gill probably for George French Angas (or for the Angas family) based on provenance, style and subject matter.
Prominently identified are two watercolours of Angas provenance bought by the National Gallery of Australia in 2011: Sturt's overland expedition leaving Adelaide 1844 (NGA 2012.1307) and the Agricultural & Horticultural Exhibition, Adelaide, 1845 (NGA 2012.25). The significance of the A&H Exhibition picture is that Angas himself is a central character along with his "Charlie". The Angas provenance of the Sturt's departure picture is important as this helped identify the central character there as likely to be Angas' main South Australian booster, Governor George Grey. This same central character appears in the large panorama of the same scene (AGSA 0.1128).
Two other watercolours are included in this group, having come to public ownership from J. Angas Johnson whose collection was both by Angas family inheritance and by purchase: Native tomb, Myponga (SAM AA8/4/1) and Extinct Crater, North of Spencer Gulf, South Australia (AGSA 0.614).
Two more views are included, being at the Gawler River at a time Gill was known to be sketching there for John Howard Angas: The Gawler River (AGSA 795HP30) and Rhodes's Cattle Station on the Gawler, Section 471, November 1844 (AGSA 986P53).
Significantly I identify a watercolour, The City of Adelaide from Mr. Wilson's Section on the Torrens, June 1845 (AGSA 721HP1) – until now attributed to Angas – as a work by Gill. It is a landscape that "wasn't ready" for the Adelaide exhibition. This landscape was so good that Angas took credit for it in premium position as plate 1 for "South Australia Illustrated".
To see how Angas used these and more Gill pictures see: George French Angas in London and S.T. Gill .
To see these works, with accompanying notes, just scroll down or jump to the List of Works.
---
References
Angas, George French. A Catalogue of Paintings by George French Angas, Illustrative of the Natives and Scenery of New Zealand and South Australia : Also Sketches in Brazil, Cape Verde Islands, New South Wales, &c. &c. S.n., 1846. Accessed 24 Dec 2020.
<https://search.sl.nsw.gov.au/permalink/f/lg5tom/SLNSW_ALMA21143884040002626>
Appleyard, Ron. & Fargher, Barbara. & Radford, Ron. & Art Gallery of South Australia. (1986). S.T. Gill : the South Australian years, 1839-1852. Adelaide : Art Gallery of South Australia
Cawthorne, W.A. Diary (Literarium diarium), Mitchell Library, SLNSW.
Grishin, Sasha. & Gill, Samuel Thomas. & Doyle, John Thomas. & Mitchell Library (N.S.W.). (1993). Dr. Doyle's sketches in Australia : a collection of prints from the original watercolour drawings in the Mitchell Library. Sydney : Mitchell Library Press and Centaur Press
Grishin, Sasha. & National Library of Australia, issuing body. & State Library of Victoria, issuing body. (2015). S.T. Gill & his audiences. Canberra, ACT ; [Melbourne] : National Library of Australia Publishing in Association with the State Library of Victoria
Jones, Philip G. and Angas, George French. and National Library of Australia, issuing body. and South Australian Museum, issuing body. Illustrating the Antipodes : George French Angas in Australia & New Zealand, 1844-1845 / Philip Jones. NLA Publishing, Canberra ACT. South Australian Museum, Adelaide SA. 2021
Tregenza, John. & Art Gallery of South Australia. 1982, George French Angas : artist, traveller and naturalist 1822-1886 / John Tregenza Art Gallery Board of South Australia Adelaide
---
Notes
1. South Australian Register, 3 January 1844: 1. <http://nla.gov.au/nla.news-article73843054>
2. Cawthorne's Diary, 17 January 1844.
3. Appleyard 26 (cat. 22 and 23).
4. Adelaide Observer, 31 May 1845: 6. <http://nla.gov.au/nla.news-article158920277>
5. Adelaide Observer, 14 June 1845: 1. <http://nla.gov.au/nla.news-article158920370>
6. South Australian, 17 June 1845: 3. <http://nla.gov.au/nla.news-article71601839>
7. South Australian Register, 18 June 1845: 3. <http://nla.gov.au/nla.news-article27450382>
8. South Australian Gazette and Colonial Register, 5 July 1845: 4. <http://nla.gov.au/nla.news-article195932919>
9. South Australian Register, 21 June 1845: 2,3. <http://nla.gov.au/nla.news-article73842625> and <http://nla.gov.au/nla.news-article27450421>
10. Jones 129 (and note 90).
11. Jones 283 (and note 15).
12. Grishin (2015) 136ff and Grishin's 1993 Doyle book (see references).
List of Works
You can scroll down to see all pictures along with detailed notes or click a link to jump to a specific work from the list.
Detailed notes each include a link to the map location for the view where available.
Dates in the descriptive text are generally in yyyy-mm-dd format and more specifically in Extended Date/Time Format (EDTF) .
---
The Gawler River | AGSA 795HP30
The Gawler River | Art Gallery of South Australia 795HP30
Artist: Gill, S.T. | Date: 1844-11 | Appleyard cat. 22
Catalogue:
S.T. Gill and George French Angas, 1844-1845
The scene is of a pool on the Gawler River. At middle left are cattle and beyond them a dwelling and post and rail fence. This is one of Gill's earliest self-dated colonial paintings – November 1844.

Appleyard (26) thinks this work is a pair with "Rhodes's Cattle Station on the Gawler, Section 471, November 1844" (private collection) with both scenes being on the Angas' Section 471 on the Gawler River. Gill was known to be sketching in the area at the time for John Howard Angas, the brother of George French Angas.

The AGSA link is not available but the image can be viewed at https://www.slv.vic.gov.au/search-discover/galleries/australian-sketchbook-st-gill.

36
---
Rhodes's Cattle Station on the Gawler, Section 471, November 1844 | AGSA 986P53
Rhodes's Cattle Station on the Gawler, Section 471, November 1844 | Art Gallery of South Australia 986P53
Artist: Gill, S.T. | Date: 1844-11 | Appleyard cat. 23
Catalogue:
S.T. Gill and George French Angas, 1844-1845
The scene is of a pool on the Gawler River with a stream winding behind the trees. At middle right are cattle, a dwelling and post and rail fence.

Appleyard (26) thinks this work is a pair with "The Gawler River" (AGSA 795HP30) with both scenes being on the Angas' Section 471 on the Gawler River. Gill was known to be sketching in the area at the time for John Howard Angas, the brother of George French Angas.

See Appleyard, 54 for a full page monochrome reproduction of this picture.

37
---
Native tomb, Myponga | SAM AA8/4/1
Native tomb, Myponga | South Australian Museum AA8/4/1
Artist: Gill, S.T. | Date: 1844-05~ | Appleyard cat. 39
Catalogue:
S.T. Gill and George French Angas, 1844-1845
The scene is an Aboriginal elevated mortuary platform near a stream, with birds descending and a pair of dingoes below. Sparsely treed hills are in the background.

I shall refer to this as the Angas/SA Museum picture. Gill painted two almost identical watercolours of this scene, the other being the Eyre/RCS picture for E.J. Eyre. One would think they were likely executed within days of each other, likely in May 1844.

George French Angas reproduced this as plate 2 in his "Savage Life and Scenes", published in November 1846. George French Angas' 1846 London exhibition included a work of a similar description: No. 209 "Elevated Native Tomb at Myponga" which is likely this work.

Reverse inscription: Native Sepulchre near Myponga Plains by T.S. Gill, 1844. Front inscription (lower right): Native Tomb / Myponga / T.S. Gill.
Provenance: J. Angas Johnson (whose collection was both by Angas family inheritance and by purchase).

Tregenza noted: "The lithograph 'Elevated Native Tomb, Myponga Vale, South Australia' printed on p. 70 in the first volume of Savage Life and Scenes is definitely based, down to the last detail, on a fine watercolour by S.T. Gill of similar title now in the South Australian Museum (acc. no 1484)." (Tregenza 1982, 17)

Appleyard catalogued this work as a Gill. In referring to the Angas plate he noted it was "wrongly labelled as being based on an original work by Angas, not Gill". (Appleyard 1986, 63)

Philip Jones of the SA Museum stated this was an Angas watercolour copied from Gill's Eyre/RCS picture. "While retaining the general composition and colouring of Gill's original ... Angas altered at least half a dozen details." (Jones 2021, 283 & note 17). Jones gives no evidence for his opinion that it is by Angas rather than by Gill. In titling this work in his book, Jones introduces doubt where there is none by surrounding T.S. Gill with quotation marks that are absent from both front and back captions. T.S. Gill is the attribution Angas himself gives to other Gill originals – see S.T. Gill and James Allen, 1845 .

As recently as 2017, SA Museum attributed this watercolour to Gill: <https://web.archive.org/web/20170425094252/http://archives.samuseum.sa.gov.au/aa8/AA8-04.htm>. Now (September 2021) the museum attributes it to Angas: <https://web.archive.org/web/20210929014040/https://www.samuseum.sa.gov.au/collection/archives/provenances/series/items/aa8-4-1>. I contacted the museum to enquire as to the rationale for their changed attribution.

The image for this work is not available online at SAM but is shown here from "Illustrating the Antipodes" (Jones 2021, 282-283).

207
---
Agricultural and Horticultural Exhibition, Adelaide, 1845 | NGA 2012.25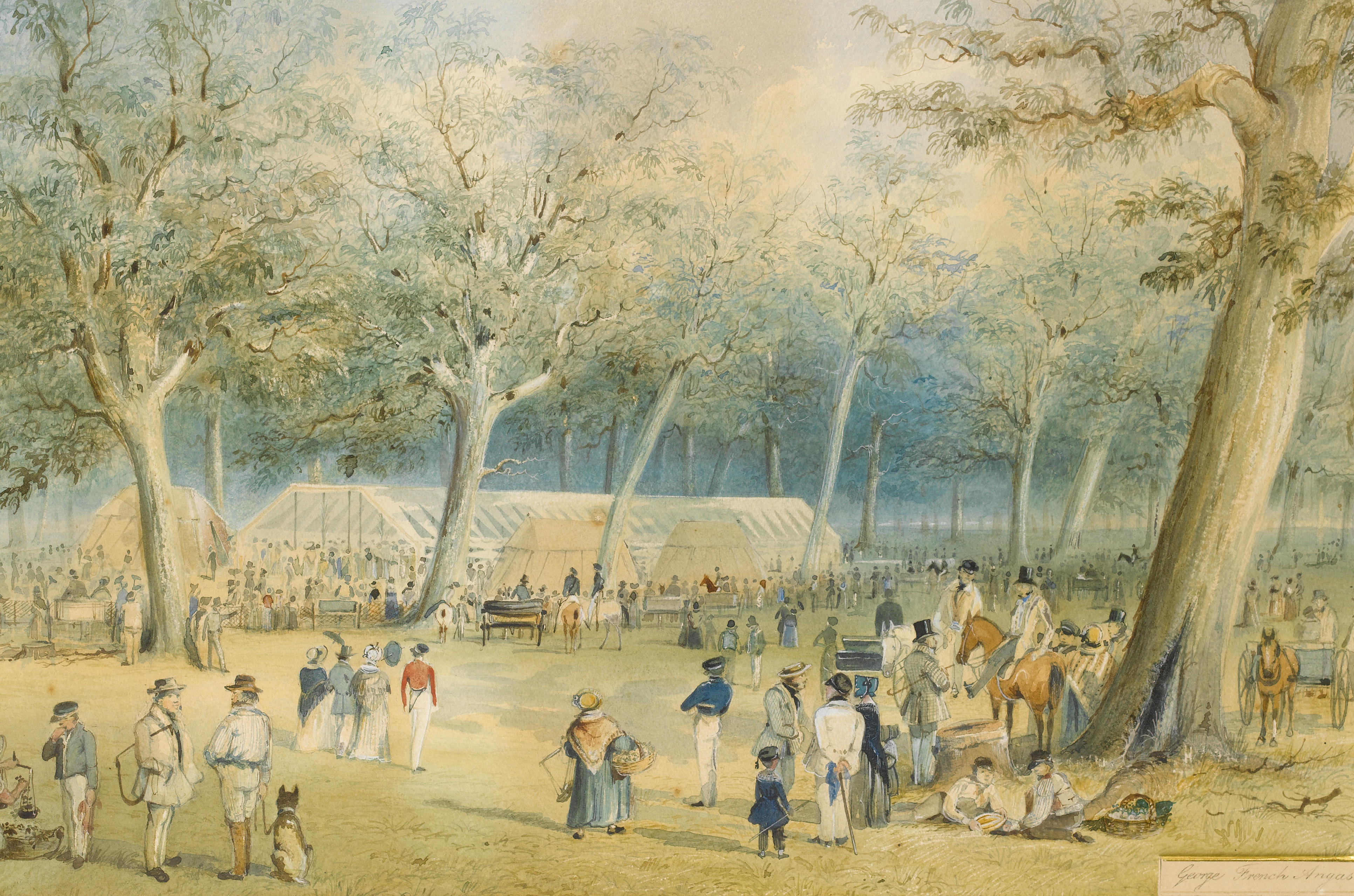 The Flower Show | National Gallery of Australia 2012.25
Artist: Gill, S.T. | Date: 1845-02 | Appleyard cat. n/a
Catalogue:
S.T. Gill and George French Angas, 1844-1845
The Agricultural and Horticultural Exhibition was held in Adelaide on Friday 14 February 1845 on the Park Lands to the northeast of the city. This is a rear view of the exhibition showing the carriage entrance; behind is the 120 foot long main pavillion and three smaller marquees set amongst the gum trees. In 1845, the carriage entrance was "at the gate on North Terrace, at the corner of the Frome Bridge Road." In this scene a four-wheel carriage arrives – likely the Governor, George Grey.

Gill painted rear views such as this one (showing the carriage entrance) and also front views. It is unusual for Gill that Aboriginal people are missing from this picture.

This painting has excellent provenance from the family of George French Angas.

A man is prominent near centre foreground, wearing a white suit and dark cap and holding a cane and blue scarf behind his back. It is Angas himself. (The appearance is very much like the 1848 lithograph portrait of Angas.) The child beside Angas is "Charlie".

In his diaries, W.A. Cawthorne wrote on 15 February 1845, describing this very scene and reporting the start of his studentship under S.T. Gill:
"Saturday Morning Feb 15. Yesterday ... the great agricultural show of this colony came off. Hundreds were present. The show was under a canvas pavilion erected in a [rural?] spot of the Park Land about ½ mile from our house. A great abundance of fruit was there – wool – a [piece?] of manufactured cloth – a cast bell – steam engine 4 horse power – a fine sun dial and stand – all colonial – tobacco, wheat, barley, onions, tomatoes, potatoes (immense), melons of all descriptions, candles, maize, soap, wine, cheese, butter &c &c. The greatest display was in fruit. Upon the whole there was a greater variety of articles this year but not so large a quantity of each as last year. The Governor distributed the prizes. All & every one as the lawyers say of the respectability was present. I saw Angas – but he was [fainting?] about Charlie who would take no notice of him [?]. I have this morning visited an artist to see whether he will take and learn me painting. He asks 12g. per annum.
"Saturday. I have drawn a rough sketch to show my future master (Mr Gill) on Monday. Oh! ye Gods grant that it may please and be the means of lowering his high price and become within the limited range of my pocket ammunition. Grant it Jupiter for Plutus' sake. Amen."

Philip Jones identifies "Charlie" as Charles Lord (Jones 2021, 19).

It is very likely that Gill painted this for Angas who went on to show it in his April 1846 London exhibition as "142. Annual Horticultural Show, in the Park Lands, Adelaide".

Bought in 2011 by NGA at a Bonham's auction, the catalogue entry originally listed this as by Angas but then attributed it to Gill and not "a copy of Gill's original" as stated by Jones. (Jones 2021, 129 and note 90).

Image: a high resolution image is available at the Bonham's auction link above.

Map | S. T. Gill - Adelaide

337
---
Sturt's overland expedition leaving Adelaide 1844 | NGA 2012.1307
Sturt's overland expedition leaving Adelaide 1844 | National Gallery of Australia 2012.1307
Artist: Gill, S.T. | Date: 1844-08/1845-06 | Appleyard cat. 80.3
Catalogue:
S.T. Gill and George French Angas, 1844-1845
The scene is the departure from Adelaide of Charles Sturt's Great Northern Expedition on 10 August 1844.

The cavalcade is proceeding from Grenfell Street at the right of picture and turning into and continuing north along King William Street. The view is northeast, looking from a vacant block (acre 140) diagonally across the intersection to Montefiore's store (acre 108), behind and to the right of which are the South Australian Company buldings on Rundle Street (acre 44). (Noticably absent from this picture are Gill's street dogs.)

There are three known versions of this scene by Gill. The narrowest of the views is wash drawing NLA R113. NGA 2012.1307 is a bit wider and includes Montefiore's residence at far right. AGSA 0.1128 is the most panoramic of the views and further includes at far right the (back of) the Wesleyan Chapel in Gawler Place (acre 106).
This scene predates the King William Street premises (acre 79) of surgeon dentist Robert Norman built between April and July 1845.

This painting has excellent provenance from the family of George French Angas. It is very likely that Gill painted this for Angas who went on to show it in his April 1846 London exhibition as "144. Starting of Captain Sturt from Adelaide, on his Expedition into the Interior, in August 1844". Angas departed Adelaide for Sydney and London on 2 July 1845. I think this painting was possibly painted after Angas' 22 January 1845 return to Adelaide, but before completion of Norman's around February to April 1845.

There are two top-hatted gentlemen in a two wheeled vehicle, with the near man in the grey coat probably being Governor George Grey. That being the case, the other man could be Captain O'Halloran, Grey's Private Secretary. These gentlemen also appear in AGSA 0.1128, but not in NLA R113.

Bought in 2011 by NGA at a Bonham's auction. See catalogue entry with high resolution image.

Map | S. T. Gill - Adelaide

252
---
Extinct Crater, North of Spencer Gulf, South Australia | AGSA 0.614
Extinct Crater, North of Spencer Gulf, South Australia | Art Gallery of South Australia 0.614
Artist: Gill, S.T. | Date: 1845 | Appleyard cat. 27.1
Catalogue:
S.T. Gill and George French Angas, 1844-1845
The view is of a rock formation seen on Captain E.C. Frome's 1843 northern expedition, which at the time was thought to be a volcanic crater. Two expeditioners and two Aboriginal people are in this scene.

Gill's picture is based on Frome's watercolour. Another sketch was made by expedition member James Henderson (SLSA B 2434/17).

This 1845 dated picture by Gill is likely to have been painted for George French Angas. (Provenance: J. Angas Johnson whose collection was both by Angas family inheritance and by purchase.)

It's also likely this is the waterolour exhibited by Angas in London in 1846 as "210 An Extinct Crater, northwards of the settled districts."

See Appleyard, 13 for a full page colour reproduction of this picture.

198
---
The City of Adelaide from Mr. Wilson's Section on the Torrens, June 1845 | AGSA 721HP1
The City of Adelaide from Mr. Wilson's Section on the Torrens, June 1845 | Art Gallery of South Australia 721HP1
Artist: Gill, S.T. | Date: 1845-06 | Appleyard cat. n/a
Catalogue:
S.T. Gill and George French Angas, 1844-1845
This watercolour is the original for plate 1 in Angas' "South Australia Illustrated" – "The City of Adelaide from the Torrens near the Reed Beds". A picture with this title was also shown in Angas' 1846 Egyptian Hall exhibition (no. 184).

A windmill is just prominent centre (with a reddish coloured tower) and a second one further to the right. These are likely the windmills on the western side of Adelaide (north to south): Phillips' mill (acre 186) corner Waymouth St and West Terrace; and City Mill on Wright Street (acre 464). Phillips' brick mill – readily recognised in other Gill paintings – had its sails disabled by lightning in February 1845 and by April was being fitted as a steam mill.

Through a gap in the trees (middle left) one glimpses buildings on North Terrace – seemingly Trinity Church with its tower, which was so iconically used in portrayals of the city from the northwest (Martha Berkeley, F.R. Nixon). However this detail is omitted from the plate by London lithographer J.W. Giles.

Until now this watercolour has been attributed to George French Angas and has Angas family provenance. It is unsigned. However, it is clearly by S.T. Gill and would have been done by him for Angas in 1845, this explaining the Angas provenance.

The style used for the gum leaves is Gill, not Angas. The characteristic dead gum tree sticks are also Gill. This picture is much like several other Gill watercolours at this time, namely: "Rhodes's Cattle Station on the Gawler, Section 471, November 1844" (Appleyard cat. 23, private collection); and "The Gawler River" (Appleyard cat. 22; AGSA 795HP30). If Angas had painted this and thought it significant enough to include Trinity Church, one would've expect him to have wanted it in the plate. The church is so small in Gill's watercolour that Angas may never have noticed it.

In Adelaide in June 1845 it was noted that Gill was a landscape specialist, whereas it was a weakness of Angas and Adelaide neighbourhood views and landscapes were omitted from Angas' exhibition.

The title is from a reverse inscription. (I haven't yet sighted it.) Thomas Wilson (1787-1863) was Adelaide mayor 1842-43 and was an art aficionado. His son, Charles Algernon Wilson (1818-1884) was acknowledged as an entomologist on Plate 48 of Angas's "South Australia Illustrated".

Map | S. T. Gill - Adelaide District

150
---