Native Tomb / Native Sepulchre
S.T. Gill frequently portrayed an Aboriginal elevated mortuary platform, such pictures usually being titled "Native Tomb" or "Native Sepulchre" (with or without an identified location).
This article is about such representations by 1840s South Australian colonial artists. It is not about the cultural practices themselves. This article seeks to:
put Gill's images in historical context
understand the relationship between his works and those of contemporaries
disentangle the Gill from the (George French) Angas
resolve a geographical confusion and
note colonial artists' treatment of this subject as an emotive genre.
As well as Gill, others also sketched mortuary platforms – E.C. Frome, W.A. Cawthorne and G.F. Angas. The pictures are sometimes associated with Myponga on the Fleurieu Peninsula, but are more frequently located at the lower lakes of the Murray River, Lake Alexandrina and the Coorong.
NOTE: This article is best read in conjunction with its companion narrative: S.T. Gill, E.J. Eyre and "Symmetry", 1844 .
NOTE: All art works mentioned can be found (with links) towards the end of this article.
Two Bookplates : Same Scene, Different Location
What locations are portrayed by Gill? Catalogue titles and back of picture captions are not always reliable indicators of location as they may have been added much later. However a good place to start is with two bookplates since their titles are firmly attached at time of publication.
Despite the titles specifying different locations these two plates are practically identical. Myponga and the Lower Murray are many miles apart and very different topographically: Myponga has streams flowing down from hills into Gulf St Vincent; the River Murray empties into Lake Alexandrina, generally flat but with low hills, and a lot of reeds.
The scene in both plates is of a single platform near a stream, with birds descending and a pair of dingoes below. Sparsely treed hills and valleys are in the background. In the foreground are Banksia sp. (Gill's "honeysuckle") and Xanthorrhoea sp. (grass trees). The plates seem to resemble Myponga's topography, not Lake Alexandrina's. The boggy ground and grass trees near Myponga were noted by Charles Mann in 1837: "The first place was a complete marsh for nearly 5 miles. We had occasionally to wade ancle deep. The Plain & Hills to the Southward had a quantity of Brushwood & the Grass tree was very plentiful."1
In March 1844, Louis Piesse, then a land agent and soon to be Sturt expeditioner, also observed the topography and dominant vegetation:
If the tourist objects to the route by Mount Terrible from the scarcity of water on the Aldinga Plains, he may cross the range at Willunga, or any other place, and follow down the Myponga to the Black Bridge. On ascending the range at Willunga some splendid views are obtained over the adjacent country from Aldinga Plains to McLaren Vale, and also of the Gulf St. Vincent ... The road is very imperfect on the range and but temporary; it is on the ridge of the spur ... Shortly the traveller gets into the gloomy region of the Stringy Bark (Eucalypti) forest, after passing which he begins to descend. When he has descended he may observe what there appears a small gully to the right hand – this is the head of the Valley of the Myponga (or as it should be called "Valleys of the Myponga") part of which near here is called "Honeysuckle Valley," from the prevalence of that name (the Banksia integrifolia). To the left hand is Mount Magnificent ...2
Honeysuckle Valley seems to be the inspiration for the banksias in Gill's images here.
The implication is that Gill intended his images – for there are distinct originals for these near identical plates – to represent a Myponga scene, not a Lake Alexandrina one. However the texts in both Eyre's and Angas' books refer to Aboriginal burial on the Lower Murray at Lake Alexandrina and not at Myponga. So it seems to have been a choice on the part of the authors to favour Gill's evocative scene instead of a more direct illustration of their text.
Myponga's Artistic Portrayal
May 1844 | Gill's Twin Watercolours
These plates, similar as they are, were actually prepared from two separate watercolours. The almost identical watercolours were painted by Gill in 1844 – probably within days of each other – one for E.J. Eyre (which I call the Eyre/Royal Commonwealth Society (Eyre/RCS) picture) and one (ultimately) for George French Angas (which I call the Angas/SA Museum picture). For the background to the one for Eyre, see: S.T. Gill, E.J. Eyre and "Symmetry", 1844 .
The watercolour for Eyre is said be captioned on the back "8 May 1842". (I haven't sighted this.) If this is (as it seems) a misreading and Gill painted it on 8 May 1844, this would be consistent with Eyre's return to Adelaide to prepare materials for his intended book and his then expectation of a June sailing for England. It would be no surprise then that Eyre and George French Angas might have discussed Gill's work together on 24 May at the Queen's Birthday levee at Government House.3 Of course this conversation is speculation but it could have been an opportune time for Gill to paint these near identical watercolours for Eyre and Angas in 1844 – and probably around May. As things turned out, Eyre's departure was delayed when the barque Taglioni brought news that Sturt's expedition was to proceed. So Eyre returned to his base at Moorunde on the River Murray.
July 1844 | Cawthorne and the Angas brothers
Taglioni also brought mail for George French Angas and he made a plan to leave Adelaide for New Zealand. Shortly before doing so, he, his brother John Howard Angas and W.A. Cawthorne took a pleasure ride to Port Adelaide on 20 July 1844. Cawthorne recorded this occasion in his diary. The weather was wet and the roads muddy. Reaching the Port, they rowed across to the other side of the stream.
George Angas all this time appeared quite delighted – he picked this flower and that flower and then took hold of both our arms and said fancy ourselves walking in a park – oh how delightful – Magnificent, I rejoined. [Heading? to] a bog – where the dead branches of the mangrove bush was only to be seen set off with mud and water – Oh be off with you, said Angas. By the bye said Angas after a pause – what a poetical subject – "a native's grave – in a she-oak tree – the wind mourning through as it does – its melancholy leaves – the lake in the distance with its mourning waves – & the surrounding desert void of life." Yes – I replied but you [wait?] – a darkened sky – with angry clouds flitting across – and a wild dog – howling [?] and a cockatoo screaming as it wields heavily by" [?] Angas made – a couplet – and [?] quite poetical.4
It's hard to discern the concrete from the poetic here. The concrete description is simply that "the dead branches of the mangrove bush was only to be seen". They may have come upon a mortuary platform near Port Adelaide, but Cawthorne doesn't exactly say so. The diary leaps from mangrove tree to she=oak tree and from Cawthorne's descriptive to Angas' poetic. "A native's grave – in a she-oak tree" – a solitary grave – is precisely what Angas sketched at the Coorong and dated 21 April, three months earlier. (See pencil sketch below.)
Although Angas' works were revealed a largely ethnographic interest, mortuary platforms were also stirring a poetic response in him and the colonists.
December 1844 | A Poem Attached
On 16 December 1844, Eyre left for England aboard the ship Symmetry (taking with him the Eyre/RCS picture).
Also, on the day of sailing, a small memento was given by a brother to his sister.5 On the back of a five inch square picture, he wrote: "Mary Palmer from her Heart loving Brother in Hope. John. 16 December 1844". He also pasted onto the back, clipped from a magazine, a sentimental poem by Felicia Hemans.
LIGHTS AND SHADES.
The gloomiest day hath gleams of light;
The darkest wave hath bright foam near it;
And twinkles through the cloudiest night
Some solitary star to cheer it.
The gloomiest soul is not all gloom;
The saddest heart is not all sadness;
And sweetly o'er the darkest doom
There shines some lingering beam of gladness.
Despair is never quite despair;
Nor life, nor death, the future closes;
And round the shadowy brow of Care
Will Hope and Fancy twine their roses.
The artist's brush was met with the poet's pen.
July 1845 | Angas and Mr. Miles' Poem
Angas visited New Zealand and made a return visit to South Australia before leaving again for England via Sydney in July 1845. There was another poetic meeting when Angas stopped over in Sydney in July/August 1845. He had with him the Angas/SA Museum picture (the twin of the Eyre/RCS picture).
Angas would later display it alongside a poem in both his London exhibition of April 1846 and in his book "Savage Life and Scenes" published in November that year, which read: "The accompanying plate represents an elevated tomb at Myponga; in connection with which I have been favoured with the following beautiful passage from the pen of my friend Mr. Miles of Sydney."6
Saw you the sedgy waters of the pool, gloomy and deep as death? ...
Heard you and saw you the tall reeds around the sedgy waters, waving in the wind – reeds of a mournful tone; when all around was silent, when the roaming savage was faraway, for the living dread the dead?
Heard you and saw you the flesh-feeding bird, screaming and shrieking, hovering high in air over this lonely spot?
Heard you and saw you the wild dog yapping impatiently, and watching where the dark birds feasted?
This is the solitude of the wilderness...
'T is the wild bird feeds; 't is the wild dog eyes the corpse that rots. 'T was here a tribe have placed a chieftain in his once canoe; he rests the sleep of time on the branches of minor shrubs flowering in their beauty, on the land which the white man has left uncursed by misery, slaughter, and corruption, to the savage in the wild.6
Angas indicates Miles' poem was a response to the Myponga painting and hence Miles would have seen the painting during Angas' seven week stay in Sydney. The phrase "a chieftain in his once canoe" is a conflation and shows Miles was familiar with Angas' New Zealand work. (This Mr. Miles is surely the William Augustus Miles, according to Jones, "a fellow poet and watercolourist" who helped Angas and whose work was included unacknowledged in an appendix of "Savage Life and Scenes".7 Miles was also Commissioner of Police!)
At Lake Alexandrina
Having considered Gill's twin pictures for Eyre and Angas, it is important to note other contemporary colonial images of mortuary platforms.
The first of these (below) is by E.C. Frome from his surveying trip in 1840 – a drawing in his sketchbook which was developed into a watercolour. At first glance the images by Frome and Gill are similarly constructed. Like Gill's portrayals, birds descend onto the platform and there are sparsely treed hills in the background. Frome's view, however, is as if from a boat on the lake – Lake Alexandrina, looking towards the shore – as one might expect on a survey trip. (The sketchbook drawing shows, more clearly than the watercolour, the position of the platform on the lake's edge through a gap in the reeds.) Gill may have been aware of Frome's sketches long before he painted his own.
Several lake edge platforms are shown as a group by Angas in his "South Australia Illustrated" (plate 40, central vignette). A later 1847 watercolour by W.A. Cawthorne also shows a group of platforms at the Murray River's entrance into Lake Alexandrina. Both these pictures are more documentary than evocative.
Gill also drew obvious lake scenes. The composition is much the same as his other images, but with appropriately changed background and vegetation. Gill captions his 1849 Native sepulchre simply as South Australia, not Myponga or Coorong, suggesting his work was shifting to genre.
Conclusion
Gill consistently represented mortuary platforms as a solitary platform near a stream, with birds descending and dingoes below. Gill's artistic interest coalesced around the lone grave and the emotions thus evoked. He preferred Myponga's scene. His images began with a certain amount of necessary topographical realism, but soon became detached from original context and became genre.
To see these works by Gill and others, with accompanying notes, just scroll down or jump to the List of Works.
Thankyou to Chester Schultz for correspondence.
---
References
Angas, George French. A Catalogue of Paintings by George French Angas, Illustrative of the Natives and Scenery of New Zealand and South Australia : Also Sketches in Brazil, Cape Verde Islands, New South Wales, &c. &c. S.n., 1846. accessed 24 Dec 2020. <https://search.sl.nsw.gov.au/permalink/f/lg5tom/SLNSW_ALMA21143884040002626>
Angas, George French. University of Auckland. Early New Zealand Books (online) | Savage Life and Scenes in Australia and New Zealand ... Volume 1 <http://www.enzb.auckland.ac.nz/document/?wid=596&action=null> accessed 9 September 2021.
Angas, George French. University of Auckland. Early New Zealand Books (online) | Savage Life and Scenes in Australia and New Zealand ... Volume 2 <http://www.enzb.auckland.ac.nz/document/?wid=607&action=null> accessed 9 September 2021.
Appleyard, Ron. & Fargher, Barbara. & Radford, Ron. & Art Gallery of South Australia. (1986). S.T. Gill : the South Australian years, 1839-1852. Adelaide : Art Gallery of South Australia
Cawthorne, W.A. Diary (Literarium diarium), Mitchell Library, SLNSW.
Jones, Philip G. and Angas, George French. and National Library of Australia, issuing body. and South Australian Museum, issuing body. Illustrating the Antipodes : George French Angas in Australia & New Zealand, 1844-1845 / Philip Jones. NLA Publishing, Canberra ACT. South Australian Museum, Adelaide SA. 2021
Schultz, Chester. 21/7/2017, Place Name SUMMARY (PNS) 5.01/05 - Maitpangga (The Southern Kaurna Place Names Project), accessed 16 April 2019, <https://www.adelaide.edu.au/kwp/placenames/research-publ/5-01-05Maitpangga.pdf>
Tregenza, John. & Art Gallery of South Australia. 1982, George French Angas : artist, traveller and naturalist 1822-1886 / John Tregenza Art Gallery Board of South Australia Adelaide
---
Notes
1. Quoted in Schultz.
2. Adelaide Observer, 16 March 1844: 7. <http://nla.gov.au/nla.news-article158918330>
3. Southern Australian, 28 May 1844: 2. <http://nla.gov.au/nla.news-article71629187>
4. Cawthorne's Diary, Saturday 20 July 1844.
5. Mode of Burial on parts of the Murray River, S. Australia | National Library of Australia NK6897/F. See below.
6. Savage Life and Scenes, 71.
7. Jones 2021, 301-305.
List of Works
You can scroll down to see all pictures along with detailed notes or click a link to jump to a specific work from the list. The works are listed in estimated chronological order.
Dates in the descriptive text are generally in yyyy-mm-dd format and more specifically in Extended Date/Time Format (EDTF) .
---
Native method of burial | AGSA 709HP116-149
Native method of burial | Art Gallery of South Australia 709HP116-149
Artist: Frome, E.C. | Date: 1840-09/1840-10
The scene is an Aboriginal elevated mortuary platform on the lake's edge as viewed from the lake through a gap in the reeds. Birds descend onto the platform. There are sparsely treed hills in the background.

A sketch by E.C. Frome in his sketchbook. Captioned below: "First Fruits - Special Survey on the Murray!! Wellington!!" Side notes: "Special Survey on the Murray/ first fruits/ Native method of burial". This sketch is from Frome's surveying trip – of Neil Malcolm's special survey – to the Murray lower lakes and Coorong in September-October 1840. This sketch was the basis for Frome's watercolour of the same view.

Frome's sketchbook is held by AGSA, but its contents are not available there online. The sketchbook was microfilmed as part of the Australian Joint Copying Project (AJCP). AJCP was digitised but this image is not available online. <https://nla.gov.au/nla.obj-740089182/view>.

358
---
Natives Tombs on the Lower Murray | AGSA 709HP116-149
Natives Tombs on the Murray | Art Gallery of South Australia 709HP116-149
Artist: Frome, E.C. | Date: 1840/1845~
The scene is an Aboriginal elevated mortuary platform on the lake's edge as viewed from the lake through a gap in the reeds. Birds descend onto the platform. There are sparsely treed hills in the background.

This watercolour is by E.C. Frome and is based on his sketchbook sketch from his surveying trip – of Neil Malcolm's special survey – to the Murray lower lakes and Coorong in September-October 1840.

Captioned below: "Natives Tombs on the Lower Murray, S. Australia, 1830 (sic)". ("Lower" seems to be partly erased.) The date is clearly in error. Although we know the 1840 date of Frome's trip, we do not know for certain when he painted this watercolour. Nor do we know when the caption was added.

Image source: Royal Commonwealth Society department, Cambridge University Library <https://specialcollections-blog.lib.cam.ac.uk/?p=17140>.
Provenance: E.C. Frome | Royal Commonwealth Society | AGSA.

357
---
Tomb of a Milmanna warrior, Koorong, April 21 | NLA R6413
Tomb of a Milmanna warrior, Koorong, April 21 | National Library of Australia R6413
Artist: Angas, G.F. | Date: 1844-03/1844-04
The image is an Aboriginal elevated mortuary platform incorporating a she-oak tree (Casuarina). A lake is in the background.

The picture is captioned with a date which could read either March 21 or April 21.

A March date is consistent with the expedition by Governor Grey, accompanied by Angas, that included Lake Alexandrina. "His Excellency the Governor is in possession of two native mummies taken out of trees near the Lake, which he intends to send home to the Royal College of Surgeons of England." (Adelaide Observer, 6 April 1844: 5. <http://nla.gov.au/nla.news-article158918421>)

An April date is consistent with "Savage Life and Scenes..." where Angas refers to the "Milmendura" tribe (p. 53, 66, etc) and records that he was at the Coorong among the "Milmendura" on 21 April 1844 (p. 137).

This may well be the picture Angas exhibited in Adelaide in 1845. Register editor James Allen wrote: "Again, as to the native modes of disposing of the dead, we only returned yesterday from inspecting one of those which Mr Angas has delineated with so much life and vigour, and can therefore speak to its great fidelity; and, as regards another, we have long had by us a sketch taken by an artist of much skill and experience on the spot, which fully bears out the correctness of Mr Angas's general description." South Australian Register, 21 June 1845: 2. <http://nla.gov.au/nla.news-article73842625>

559
---
Mode of Burial on parts of the Murray River, S. Australia | NLA NK6897/F
Mode of burial on parts of the Murray River, S. Australia | National Library of Australia NK6897/F
Artist: Gill, S.T. | Date: 1844 | Appleyard cat. n/a
Catalogue:
S.T. Gill, E.J. Eyre, Symmetry 1844
The scene is an Aboriginal elevated mortuary platform near a stream, with birds descending and a pair of dingoes below. Sparsely treed hills are in the background.

Captioned below (in ink of another colour): "Mode of Burial on parts of the Murray River, S. Australia". The "Murray River" location in the caption is confusing for here is a small stream – not the mighty Murray. This appears to be a scene near Myponga, not Lake Alexandrina. It is uncertain how this picture got its caption, but it may have been connected with Eyre's plate which was also captioned as being at the Lower Murray.

The reverse is inscribed "Mary Palmer from her Heart loving Brother in Hope", signed "John" and dated 16 December 1844. The sentimental poem "Lights and Shades" by Felicia Hemans is pasted on the back over some brush strokes.

On this date there was a gala occasion at Port Adelaide for the passengers departing on the barque Symmetry for England, the most prominent being E.J. Eyre. The identity of Mary Palmer is unknown. She was not a named passenger on Symmetry, though there were four unnamed servants for Captain (and Mrs) Elder, Robert Gouger and Dr Knott. There is another intriguing possibility that "John" may be John Palmer who was one of the two house carpenters brought out by Samuel Gill, snr. Of course Mary Palmer may not even have sailed on the Symmetry – perhaps Mary was in England. But given the significant event that day it's a good chance this little gift was taken aboard.

86
---
Native Sepulchre, near Myponga Plains, South Australia | Unknown Eyre/RCS
Native Sepulchre, Near Missunga Plains, South Australia | Owner unknown Eyre/RCS
Artist: Gill, S.T. | Date: 1844-05~ | Appleyard cat. n/a
Catalogue:
S.T. Gill, E.J. Eyre, Symmetry 1844
The scene is an Aboriginal elevated mortuary platform near a stream, with birds descending and a pair of dingoes below. Sparsely treed hills are in the background.

This watercolour is the basis for the plate "Mode of disposing of the Dead of the Lower Murray" in Eyre's "Journals". Gill likely painted this for Eyre in 1844 – and probably in May – when Eyre was preparing to leave for England.

Gill painted two almost identical watercolours of this scene, the other being the Angas/SA Museum picture (AA8/4/1) which was used as the basis for George French Angas' plate in "Savage Life and Scenes". One would think the watercolours were likely executed within days of each other.

I shall refer to this watercolour as the Eyre/RCS picture. Long held by the Royal Commonwealth Society (RCS), London, more recently it was in Alan Bond's Dallhold Collection. The current owner is unknown.

This picture was titled "Native Sepulchre, Missunga Plains" when it was reproduced in a 1920 article (Moore 1920) next to another RCS Gill picture - "Scene near the Missunga Plains". "Missunga" in the title is a mistranscription. (Schultz 2017). At the time of writing, "Missunga" appears only twice in Trove digitised newspapers, and both are in the London based South Australian News. (source <https://trove.nla.gov.au/search/category/newspapers?keyword=missunga> accessed 2021-10-04)

I haven't been able to examine this work. A date of 8 May 1842 is said to be on this painting (source DAAO, <http://www.daao.org.au/bio/samuel-gill/, version 2013-03-08>, accessed 2021-09-28). Also Appleyard 1986 (p.63) refers to an 1842 inscription. This seems to have been a misreading and the date could be 8 May 1844. Eyre returned to Adelaide from Moorunde in May 1844. The twin Angas/SA Museum picture is inscribed 1844.

Image source: De Bussy, 54.

Provenance: Royal Commonwealth Society, London | Dallhold Investments Pty. Ltd., Perth | Christie's, Melbourne, 28 July 1992, lot 39 | Menzies, Melbourne, 14/09/2011, lot 76. (Source: <https://www.menziesartbrands.com/items/native-sepulchre-near-missunga-plains-south-australia>)

Additional References:
De Bussy, Diana. and Dallhold Investments. The Alan Bond collection of Australian art / Diana de Bussy Dallhold Investments Pty Ltd Perth, W.A 1990

Moore, William, The artist of the goldfields, pp.535-8 in "United Empire" The Royal Colonial Institute Journal Vol XI, 1920.

165
---
Mode of disposing of the Dead at the Lower Murray [plate] | SLNSW
Mode of disposing of the Dead at the Lower Murray [plate] | State Library of New South Wales
Artist: Gill, S.T. | Date: 1845-08~ | Appleyard cat. 39.2
Catalogue:
S.T. Gill, E.J. Eyre, Symmetry 1844
"Mode of disposing of the Dead at the Lower Murray", "Drawn by E. Gill" is a plate in Eyre's "Journals of expeditions of discovery" (volume 2, after p. 344).

It is based on the Eyre/RCS watercolour by S.T. Gill.

Eyre mentions elevated mortuary platforms as a practice on the lower Murray. "Another method practised upon Lake Alexandrina, is to construct a platform,* or bier upon high poles of pine, put upright in the ground upon which the body is placed, bandages being first put round the forehead, and over the eyes, and tied behind. A bone is stuck through the nose, the fingers are folded in the palm of the hand, and the fist is tied with nets, the ends of which are fastened about a yard from the hands; the legs are put crossing each other." (Vol. 2, chapter 5)

This appears to be a scene more like Myponga, not Lake Alexandrina, and the title has seemingly been given by Eyre to better match his book's text.

348
---
Native tomb, Myponga | SAM AA8/4/1
Native tomb, Myponga | South Australian Museum AA8/4/1
Artist: Gill, S.T. | Date: 1844-05~ | Appleyard cat. 39
Catalogue:
S.T. Gill and George French Angas, 1844-1845
The scene is an Aboriginal elevated mortuary platform near a stream, with birds descending and a pair of dingoes below. Sparsely treed hills are in the background.

I shall refer to this as the Angas/SA Museum picture. Gill painted two almost identical watercolours of this scene, the other being the Eyre/RCS picture for E.J. Eyre. One would think they were likely executed within days of each other, likely in May 1844.

George French Angas reproduced this as plate 2 in his "Savage Life and Scenes", published in November 1846. George French Angas' 1846 London exhibition included a work of a similar description: No. 209 "Elevated Native Tomb at Myponga" which is likely this work.

Reverse inscription: Native Sepulchre near Myponga Plains by T.S. Gill, 1844. Front inscription (lower right): Native Tomb / Myponga / T.S. Gill.
Provenance: J. Angas Johnson (whose collection was both by Angas family inheritance and by purchase).

Tregenza noted: "The lithograph 'Elevated Native Tomb, Myponga Vale, South Australia' printed on p. 70 in the first volume of Savage Life and Scenes is definitely based, down to the last detail, on a fine watercolour by S.T. Gill of similar title now in the South Australian Museum (acc. no 1484)." (Tregenza 1982, 17)

Appleyard catalogued this work as a Gill. In referring to the Angas plate he noted it was "wrongly labelled as being based on an original work by Angas, not Gill". (Appleyard 1986, 63)

Philip Jones of the SA Museum stated this was an Angas watercolour copied from Gill's Eyre/RCS picture. "While retaining the general composition and colouring of Gill's original ... Angas altered at least half a dozen details." (Jones 2021, 283 & note 17). Jones gives no evidence for his opinion that it is by Angas rather than by Gill. In titling this work in his book, Jones introduces doubt where there is none by surrounding T.S. Gill with quotation marks that are absent from both front and back captions. T.S. Gill is the attribution Angas himself gives to other Gill originals – see S.T. Gill and James Allen, 1845 .

As recently as 2017, SA Museum attributed this watercolour to Gill: <https://web.archive.org/web/20170425094252/http://archives.samuseum.sa.gov.au/aa8/AA8-04.htm>. Now (September 2021) the museum attributes it to Angas: <https://web.archive.org/web/20210929014040/https://www.samuseum.sa.gov.au/collection/archives/provenances/series/items/aa8-4-1>. I contacted the museum to enquire as to the rationale for their changed attribution.

The image for this work is not available online at SAM but is shown here from "Illustrating the Antipodes" (Jones 2021, 282-283).

207
---
Elevated Native Tomb, Myponga Vale, South Australia [plate] | SLNSW DSM/980/205A1
Elevated Native Tomb, Myponga Vale, South Australia [plate] | State Library of New South Wales DSM/980/205A1
Artist: After Gill, S.T. | Date: 1846 | Appleyard cat. 39.1
Plate in George French Angas' book "Savage Life and Scenes" (vol. 1, 71) and captioned "George French Angas del". Despite this claim to authorship by Angas, the plate is based precisely on Gill's watercolour (SAM AA8/4/1). (It was plate 2 in the first edition and plate 7 in the second. Links here are to the first edition.)

The text adjacent to the plate reads: "Several elevated native burying-places may be seen along the margin of the Lake Alexandrina. The wind makes dirge-like music amongst the reeds where these tombs stand, and blows chill across the dark and dreary lake; conveying a perfect idea of solitude and desolation and death. The accompanying plate represents an elevated tomb at Myponga; in connection with which I have been favoured with the following beautiful passage from the pen of my friend Mr. Miles of Sydney ... [a poem follows]". (p. 71) The same verse accompanied "209. Elevated Native Tomb at Myponga" in Angas' London Exhibition.

The leap in Angas' text from Lake Alexandrina to Myponga (and then back to the Murray River) illustrates Angas's lack of geographical flow in the narrative. Angas further writes about mortuary platforms where the Murray River flows into Lake Alexandrina (p.60) and at the Coorong (p.86). Angas made his own sketches of mortuary platforms around Lake Alexandrina and the Coorong – see "South Australia Illustrated", plate 40, "The Aboriginal Inhabitants. Native Tombs", so it would seem he selected this portrayal by Gill specifically for its evocative atmosphere and to complement his poetic inclinations.

Tregenza noted Angas' plate is derivative of an undoubted Gill painting. "The lithograph 'Elevated Native Tomb, Myponga Vale, South Australia' printed on p. 70 in the first volume of Savage Life and Scenes is definitely based, down to the last detail, on a fine watercolour by S.T. Gill of similar title now in the South Australian Museum (acc. no 1484)." (Tregenza, 17)

345
---
Native Inquest | Unknown Bonhams 2013-11-25 111.1
Native Inquest | Owner unknown Bonhams 2013-11-25 111.1
Artist: Gill, S.T. | Date: 1844/1849 | Appleyard cat. n/a
Catalogue:
S.T. Gill, E.J. Eyre, Symmetry 1844
This is one of a series of three wash drawings portraying Aboriginal mourning and mortuary ceremony. The scenes correspond to text in E.J. Eyre's "Journals of expeditions of discovery". The text is almost identical to W.A. Cawthorne's October 1844 manuscript titled "The Natives of South Australia" in the chapter "Mode of Burial". However it's notable that Cawthorne has the word "Wirkalli", not "wirkatti".

Eyre: "Among the Adelaide natives as soon as a person dies, a loud wailing cry is raised by the relations and friends. The body is immediately wrapped up in the skin or clothing worn during life, and in the course of a day or two, it is placed upon the wirkatti or bier, which is made of branches crossed so as to form the radii of a circle, an examination is then entered upon as to the cause of death, in the following manner. The bier is carried upon the shoulders of five or six persons, over places where the deceased had been living; whilst this is going on, a person is placed under the bier, professedly in conversation with the deceased. He asks, what person killed you? If the corpse say no one, the inquest ceases ..." (Vol. 2, chapter 5)

I haven't been able to examine this series, nor do I know its provenance. Although it corresponds with Eyre's subject matter it may not necessarily have been for him.

570
---
Native Sepulchre, Lake Alexandrina | Unknown Bonhams 2013-11-25 111.2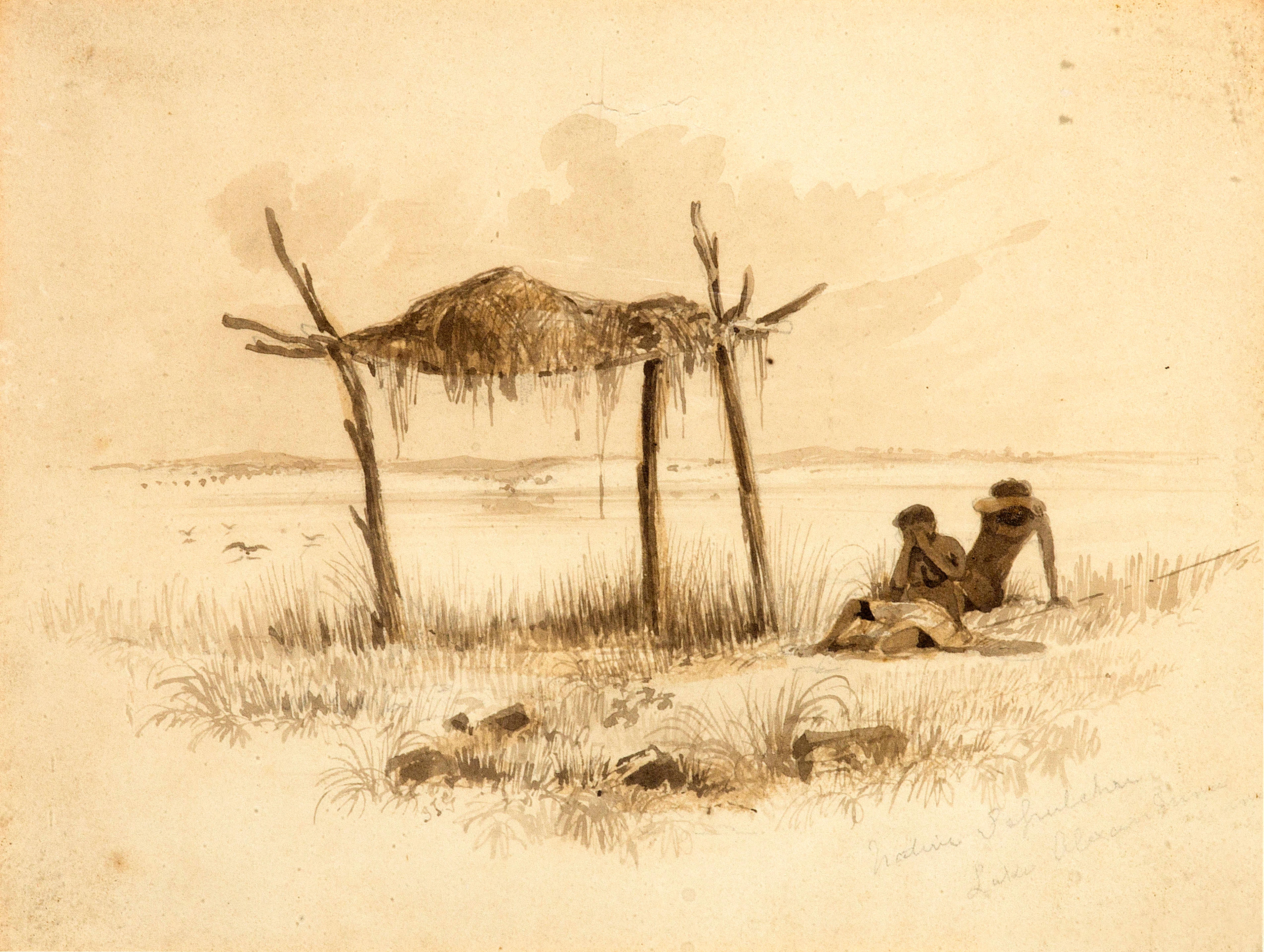 Native Sepulchre, Lake Alexandrina | Owner unknown Bonhams 2013-11-25 111.2
Artist: Gill, S.T. | Date: 1844/1849 | Appleyard cat. n/a
Catalogue:
S.T. Gill, E.J. Eyre, Symmetry 1844
The scene is of an Aboriginal elevated mortuary platform near the edge of Lake Alexandrina. Two people below avert their eyes. This differs from Gill's usual version which features a stream and dingoes.

This is one of a series of three wash drawings portraying Aboriginal mourning and mortuary ceremony. The scenes correspond to text in E.J. Eyre's "Journals of expeditions of discovery". The text is almost identical to W.A. Cawthorne's October 1844 manuscript titled "The Natives of South Australia" in the chapter "Mode of Burial". However it's notable that Cawthorne has the word "Wirkalli", not "wirkatti".

Eyre: "Another method practised upon Lake Alexandrina, is to construct a platform,* or bier upon high poles of pine, put upright in the ground upon which the body is placed, bandages being first put round the forehead, and over the eyes, and tied behind. A bone is stuck through the nose, the fingers are folded in the palm of the hand, and the fist is tied with nets, the ends of which are fastened about a yard from the hands; the legs are put crossing each other." (Vol. 2, chapter 5)

471
---
Native Burial | Unknown Bonhams 2013-11-25 111.3
Native Burial | Owner unknown Bonhams 2013-11-25 111.3
Artist: Gill, S.T. | Date: 1844/1849 | Appleyard cat. n/a
Catalogue:
S.T. Gill, E.J. Eyre, Symmetry 1844
This is one of a series of three wash drawings portraying Aboriginal mourning and mortuary ceremony. The scenes correspond to text in E.J. Eyre's "Journals of expeditions of discovery". Also the text is almost identical to W.A. Cawthorne's manuscript dated October 1844 titled "The Natives of South Australia". It is worth noting Cawthorne has the word "Wirkalli", not "wirkatti".

Eyre: "Among the Adelaide natives as soon as a person dies, a loud wailing cry is raised by the relations and friends. The body is immediately wrapped up in the skin or clothing worn during life, and in the course of a day or two, it is placed upon the wirkatti or bier, which is made of branches crossed so as to form the radii of a circle, an examination is then entered upon as to the cause of death, in the following manner. The bier is carried upon the shoulders of five or six persons, over places where the deceased had been living; whilst this is going on, a person is placed under the bier, professedly in conversation with the deceased. He asks, what person killed you? If the corpse say no one, the inquest ceases ..." (Vol. 2, chapter 5)

569
---
Native Sepulchre, Mipunga [sic.] Plains | Untraced
Native Sepulchre, Mipunga [sic.] Plains | Work untraced
Artist: Gill, S.T. | Date: 1844/1847 | Appleyard cat. n/a
Gill exhibited "152. Native Sepulchre, Mipunga [sic] Plains" at the 1847 Adelaide exhibition. (Wilson & Borrow, 308). This is another version of this scene in addition to the Eyre/RCS and Angas/SA Museum watercolours which had already been taken to England.

Reference: Wilson, S. C. & Borrow, K. T. 1973, The bridge over the ocean : Thomas Wilson (1787-1863), art collector and mayor of Adelaide / [by] S. C. Wilson and K. T. Borrow S. C. Wilson and K. T. Borrow Adelaide. (Wilson & Borrow mistakenly reverse the lists for the 1847 and 1848 exhibitions.)

This work is not known to be extant.

556
---
Native Inquest | SLNSW DGA 58 f.48
Native Inquest | State Library of New South Wales DGA 58 f.48
Artist: Cawthorne, W.A. | Date: 1844~/
W.A. Cawthorne wrote about the "inquest" in his October 1844 manuscript titled "The Natives of South Australia" in the chapter "Mode of Burial".

The painting's date is uncertain. Cawthorne studied under Gill from March 1845 to at least early 1847.

580
---
Entrance of the River Murray into the Lake 1847 | SLNSW-M PXD 39 f.14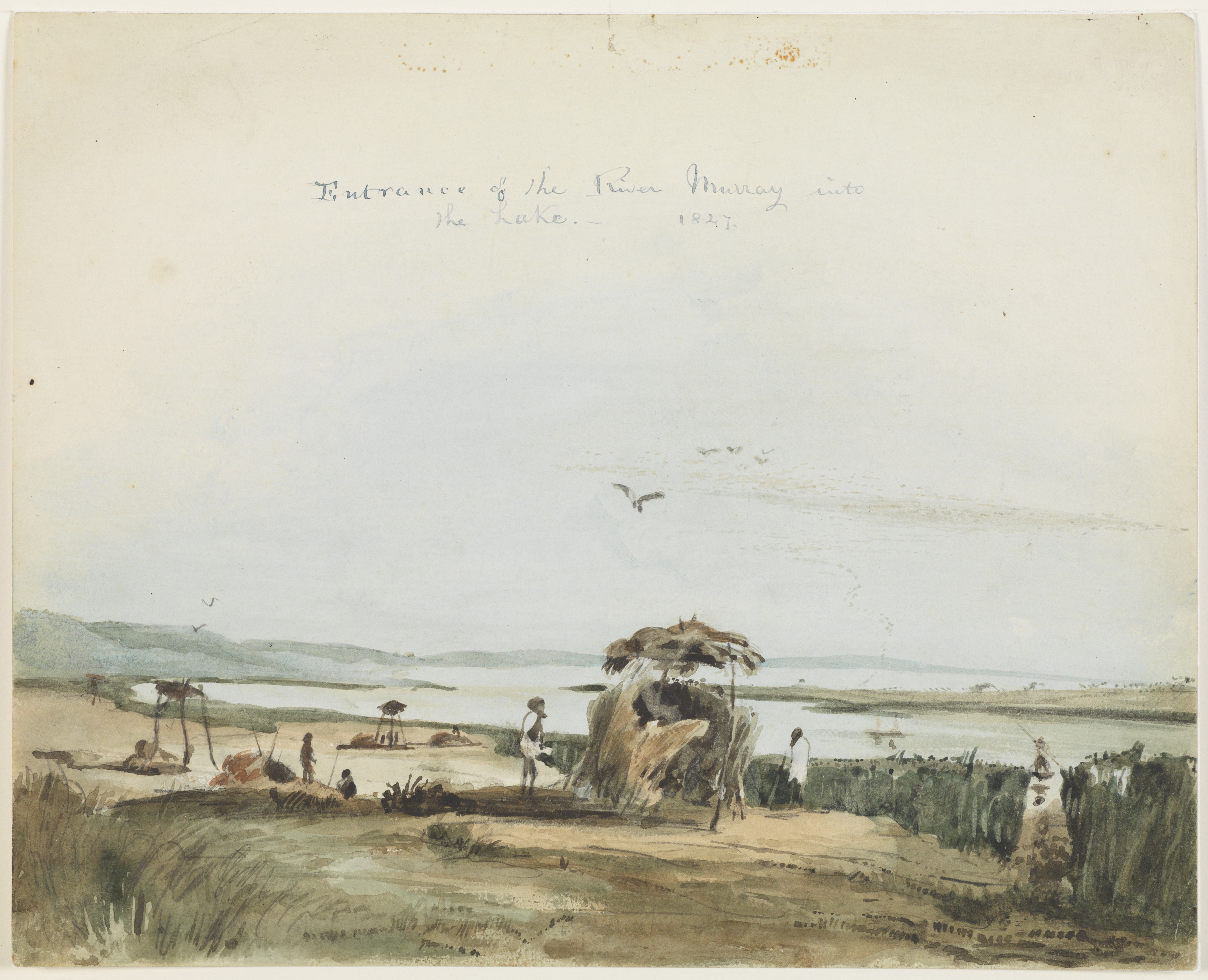 Entrance to the River Murray into the Lake 1847 | Mitchell Library, State Library of New South Wales PXD 39 f.14
Artist: Cawthorne, W.A. | Date: 1847
The scene is the Murray River's entrance into Lake Alexandrina showing many Aboriginal elevated mortuary platforms, with birds descending. Sparsely treed hills are in the background. In the foreground a way through the reeds has been cleared and a boat is on the water.

466
---
Native sepulchre, So. [i.e. South] Australia | NLA NK7063/2
Native sepulchre, So. [i.e. South] Australia, Adelaide, Jany 27th, 1849 | National Library of Australia NK7063/2
Artist: Gill, S.T. | Date: 1848-11~/1849-01 | Appleyard cat. n/a
The scene is of an Aboriginal elevated mortuary platform near a stream, with birds descending. Below a dingo drinks from a pool or stream. A lake or bay is in the background, suggestive of a setting at Lake Alexandrina / the Coorong.

Gill captions this location simply as South Australia, not Myponga or Coorong, suggesting his work on this subject was shifting to genre. Gill has titled the work. The further note – "Adelaide, Jany 27th, 1849" – seems to be in another hand.

This is a genre picture by Gill showing Aboriginal culture in South Australia. "Native Sepulchre" became an ongoing subject of his.

Gill has titled the work. The further caption – "Adelaide, Jany 27th 1849" – seems to be in another hand.

88 2/01/2022 3:35:03 PM
---
Native sepulchre | NLA S3283
Native sepulchre | National Library of Australia S3283
Artist: Gill, S.T. | Date: 1855 | Appleyard cat. n/a
Lithograph in Gill's "Sketches in Victoria". Publisher: J.J. Blundell & Co.

563
---
Native Sepulchre | NLA S3237
Native Sepulchre | National Library of Australia S3237
Artist: Gill, S.T. | Date: 1864 | Appleyard cat. n/a
Lithograph in Gill's "Australian Sketchbook". Publisher: Hamel & Ferguson.

561
---
Native Sepulchre | SLNSW-M PX*D 70 f.34a
Graves of Aborigines | Mitchell Library, State Library of New South Wales PX*D 70 f.34a
Artist: Cawthorne, W.A. | Date: 1844~/1874~
The scene is of an Aboriginal elevated mortuary platform near a stream, with birds descending and a dingo below. The scene is dominated by a fiery sky. Sparsely treed hills are in the background. This is a version of Gill's "Native Sepulchre" subject by W.A. Cawthorne, Gill's student.

This subject corresponds well with Cawthorne's (poetic) trip with the Angas brothers on Saturday 20 July 1844. The album's content and style relates to Cawthorne's studying under Gill from March 1845 to at least early 1847.

The painting's date is uncertain. (Dated sketches in the album include 17 April 1847 and April 1864. There are many 1870 dated Cawthorne pictures having vivid red sunsets.)

562
---